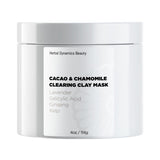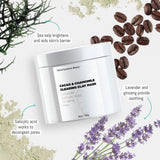 Herbal Dynamics Beauty
CACAO & CHAMOMILE CLEARING CLAY MASK
★ ★ ★ ★ ★ 5.0

Chocolate Delight
"This mask has a texture like a cleansing balm, but applies smoothly like a facial mask should. The smell is a chocolate lovers delight. I have dry, sensitive skin and my sister used it as well, she has oily skin. We were both able to use it, it left me moisturized after and my sister's skin was more matte plus softer as well. So I think any skin type can use it. No irritation or other effects." - Melissa H.
Indulge without the guilt with this delectable mud mask packed with antioxidants and skin-clearing botanicals.
Cacao provides rich antioxidants that target signs of aging and inflammation while chamomile soothes. Gentle clays deep clean pores as botanical extracts and sulfur calm breakouts and blackheads.  
Use twice weekly or as needed.
4.0 oz.