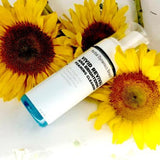 Herbal Dynamics Beauty
VIVID REVIVAL™ AHA BRIGHTENING FOAMING CLEANSER
★ ★ ★ ★ ★
Oh so foamy!

"It smells so so very nice and the foam is so rich it doesn't feel harsh on my skin even after a long day in the harsh eco system of LA" - Anastasia C.

Revitalize your complexion with this radiance-enhancing cleanser! Glycolic acid, grapefruit, lemon and rosehip seed oil fight environmental damage and help brighten
areas of scarring and hyperpigmentation. Gentle olive-based cleansers break down oil and residue on the skin, as calendula and loquat nourish and calm. Achieve clearer, more radiant looking skin without harsh exfoliation.
5 oz.