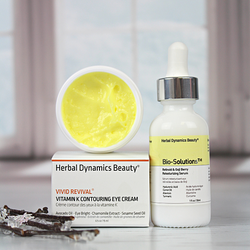 Herbal Dynamics Beauty
CONTOUR & RETEXTURIZE DUO
Achieve a smooth complexion and youthful eyes with this bestselling duo. 
VIVID REVIVAL VITAMIN K CONTOURING EYE CREAM 
Powerful botanicals target dark circles, puffiness, and signs of aging to deliver plump skin and radiant, youthful eyes.
Vitamin K targets dark circles by boosting circulation and supporting the body's healing process.
Green tea and gingko biloba both hold anti-inflammatory properties, reducing puffiness and also fighting signs of aging.
Hyaluronic acid plumps skin and softens fine lines, while aloe and nourishing oils hydrate and keep the delicate undereye area looking youthful.
RETINOID & GOJI BERRY RETEXTURIZING SERUM
This modern retinoid combines with the superfoods carrot seed oil and goji extract to deliver maximum anti-aging benefits.
This curated complex refines, retexturizes and smoothes skin's appearance. Hyaluronic acid and turmeric provide gentle soothing and balance.
0.5 oz. / 1 oz