3 Simple Steps for Ageless Skin
O'o Hawaii's secret trio = simply ageless beauty
Hello Beauty,
Want to look younger in just 3 days? The O'O Hawaii Aloha Bliss trio gives you everything you need to start!  
Even a picky dermatologist would smile at these formulas. They work their magic with superfood-based ingredients. Hawaii's fabulously nutrient-rich volcanic soil amplifies everything you grow in it. Using these high performance ingredients and no fillers, these products become super-powered.
They're so good, you can look younger fast and with only three products.
Step 1: Start Your Ageless Skin Journey With Exfoliation
Apply Birdseed Detoxifying Face Scrub to damp skin and massage gently. Take a breath. Enjoy the uplifting, refreshing effects of the scent of pineapple and coconut. Birdseed starts dissolving as you use it. It removes impurities, bacteria, and dull, dead skin.  Never harsh, it won't scratch the skin's surface and is gentle enough for sensitive skin.
Massage it into your skin. Birdseed works to increase circulation and blood flow. It plumps your skin, increases collagen, and improves elasticity. As it moisturizes and polishes, it minimizes pores, and reduces acne, fine lines, and wrinkles. In one step, you cleanse, exfoliate and revitalize your skin so it's glowing and feels feather soft.  
What makes it great?  Volcanic Rock, Red Alaea Clay, Pearl Powder, Sapphire Crystals, Activated Bamboo Charcoal, Pineapple, and Coconut are some of its superpowered ingredients.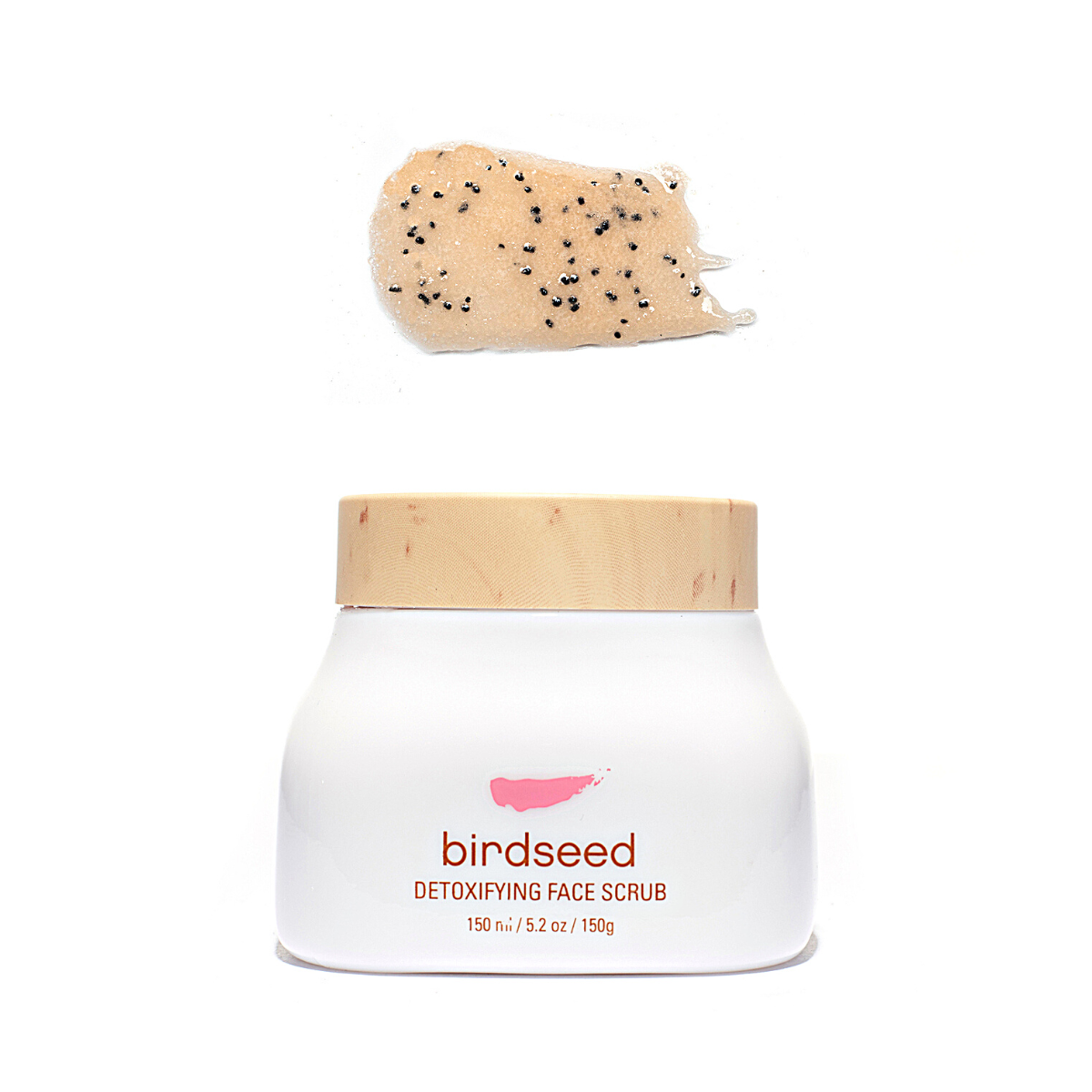 "I created O'o Hawaii with a "beauty from the "inside out" concept because I believe skin care starts with food first. I wanted the line to perfectly blend health and nutrition with external skin care. Nature gives us everything we need to take care of our skin. It was important to me that my line embody that philosophy."
- Holly Harding, Founder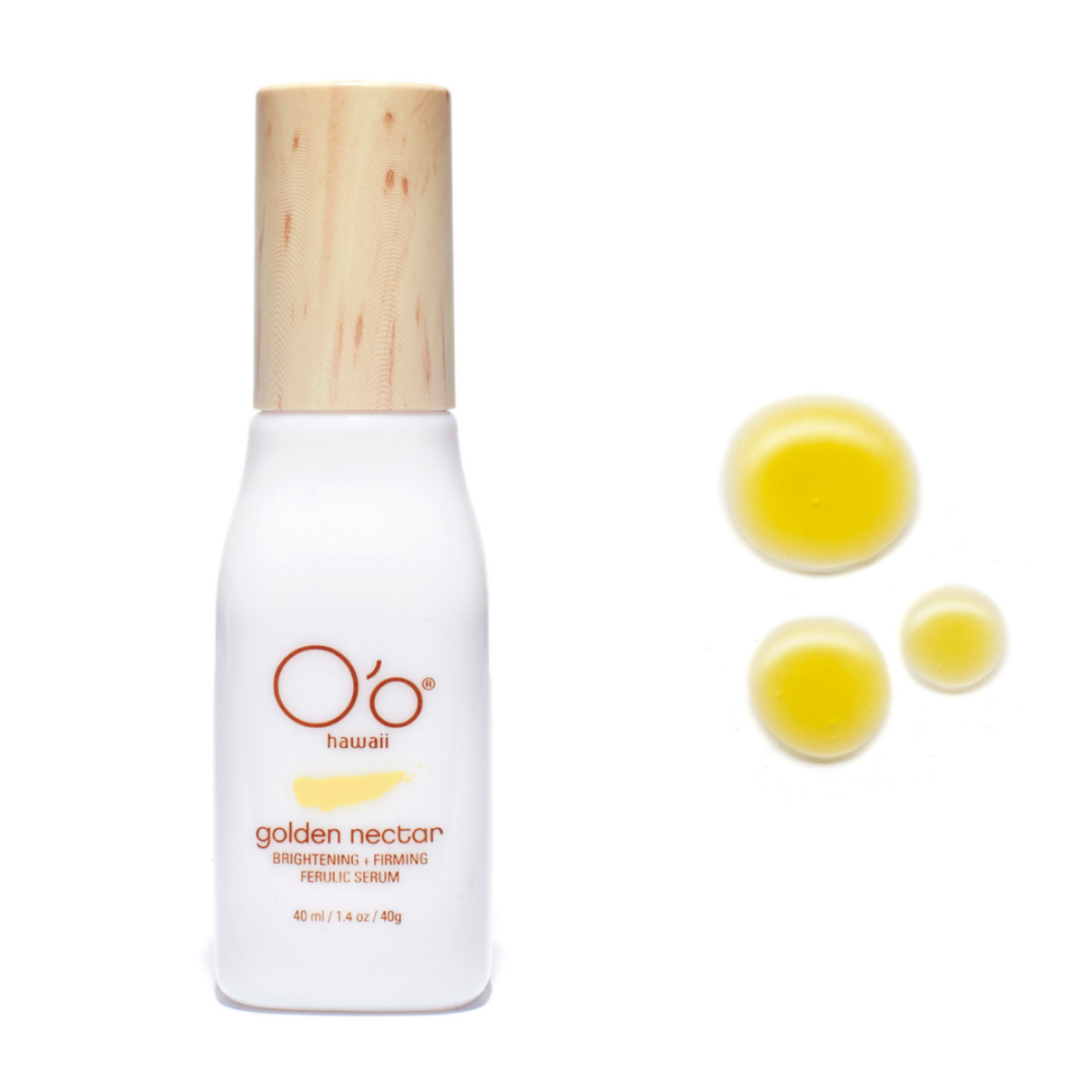 Step 2: Treat Your Skin. 
Golden Nectar works to reduce your visible signs of aging, including melasma or sunspots. A miracle serum, it's packed with high-performance ingredients that are dermatologist favorites for fighting signs of aging and sun damage. 
The magic is in the trio of Ferulic Acid, Sodium Hyaluronate, and Sea Buckthorn Vitamin C. These ingredients boost each other and amplify your results. At the same time, they boost each of the antioxidants included in the formula. 
Rose quartz crystals - in skincare? Yes! They minimize fine lines, wrinkles, and redness and increase circulation. 
Hawaii-grown algae and noni offer repairs at the cellular level and destroy free radicals. Noni promotes healthy cells and repairs those going astray. And Hawaiian Red Algae, known as Astaxanthin, has been shown in clinical studies to increase the moisture content in your skin and keep it there. It also has the unique ability to neutralize multiple free radicals simultaneously! All the better for your ageless-looking and feeling skin.
Did you know, Ferulic Acid is one of the most powerful antioxidants available? It's a warrior that seeks and destroys some of the worst free radicals in nature. When combined with vitamins C and E, the reaction that occurs makes this blend a highly potent wrinkle fighter. 
Golden Nectar nourishes your skin from the outside with the same quality ingredients you'd choose to eat for maximum health and fitness. As an integrative nutritionist and food-for-beauty expert, Holly planned it this way. In this one serum, you have the golden trio: exfoliants, antioxidants, and skin rejuvenators. It's no wonder that it's our most popular seller.
"Our ingredients are highly concentrated with actives. By "no fillers," it means we do not use soy, palm or silicon dioxide to "fill the jar" and dilute the actives to create a better profit margin."
- Holly
Harding, Founder
Step 3: Hydrate and Protect
Follow Golden Nectar with Brilliant Feather Beauty Balm. This deeply hydrating formula is designed to fight UV damage.  It's perfect for daytime wear and overnight protection. An anti-inflammatory, it calms skin, reduces redness, and soothes sun-induced issues. This calming balm helps increase circulation and plumps your skin for a more youthful appearance. It also leaves your skin with a dewy glow as it reduces fine lines and wrinkles.
Brilliant Feather contains a generous blend of O'o Hawaii's exclusive superfood blend: Red Algae, Hawaiian Noni Fruit, and Hawaiian Coffeeberry Extract. These exceptional botanicals are grown in volcanic ash soil for super-powered plants.
You'll also find these awesome ingredients in this brilliant blend:
Elderberry Fruit Extract for its quercetin to promote collagen and Vitamins A, B6, and E. 
Rose Quartz Crystals minimize fine lines, wrinkles, and redness. 
Cocoa Seed butter hydrates, nourishes and improves skin elasticity. 
Cannabis Seed Oil, with its 21 amino acids, helps skin hold moisture and look more youthful. (No THC in this product!)
Rose Extract calms and promotes healing.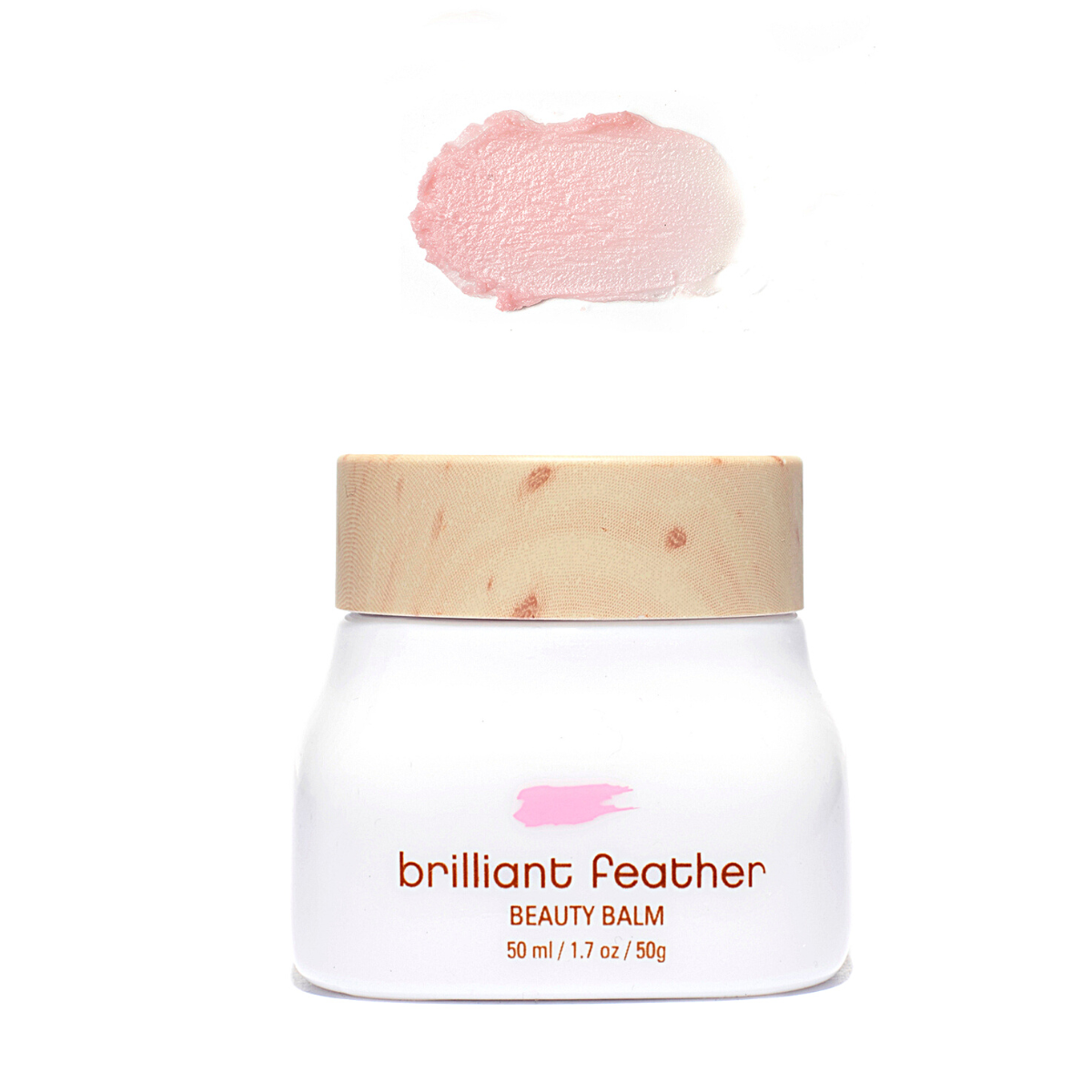 Acacia Oil is a hero in anti-aging skin care because of its ability to help improve skin moisture, health, and appearance. 
Tamanu is a rare oil with anti-inflammatory and anti-microbial properties. It also creates a biological filter with a natural SPF.
Babassu Oil is easily absorbed in your skin and moisturizes and hydrates with no greasy feel. 
Marula Seed Oil is also easily absorbed. It's anti-inflammatory and increases skin smoothness. 
Hawaiian Kukui Nut Oil has that magic blend of Vitamins A, C, and E for a healthy, radiant glow. 
Sea Buckthorn Oil is used for repairing and healing, fighting acne, and skin protection. 
Manuka Honey helps skin repair, rejuvenate and retain moisture. 
Milk Thistle is a UV damage inhibitor, free radical fighter and helps fight signs of aging.
That's a lot of goodness packed in one brilliant balm! So don't stop with your face. Use it daily on your neck, too, since your throat and neck are often the first to show age.
★ ★ ★ ★ ★
"This is my the third day of using Golden Nectar, Bird Seed and Brilliant Feather and WOW! I can see a significant difference in my skins texture and look. My skin looks so much healthier and is glowing! can't wait to see results after an entire week."
-acola (verified owner)
There you have it. Three simple steps for refreshed, revitalized ageless skin from the golden islands of Hawaii. Clean, healthy beauty with ingredients from nature and no chemical fillers.
Just 2 minutes, twice a day with these powerful products will set you on the road to ageless skin. At first you'll notice how much nicer your skin looks. As time goes on, you'll be impressed with how your skin continues to look better. And as everyone around you looks older, you'll look younger. Which makes the difference that much more dramatic. 
The sooner you start, the sooner you'll look ageless!
To your beautiful skin,
Susie:)
IT'S ABOUT CLEAN.  IT'S ABOUT HEALTHY.  IT'S ABOUT SKIN.
Susie Kuse is Passionate About Great Skin and Co-Founder of Indie Beauty Market. She has been in the spa and beauty industry since 2002. She loves to help people understand that a little daily self-care goes a long way toward great skin, health, beauty and happiness. And it's important to keep your products safe, effective, healthy, clean, sustainable and ethical.