How to Wear Concealer in More Ways Than One
it's a secret weapon for your makeup bag 👛
Hello Beauty,
When asked what products are essential in any makeup case, Ellis Faas responded, "I feel if the skin looks good, then the rest looks good. You should always have foundation and concealer."
Words to live by, I'd say. Ellis was a groundbreaking makeup artist who popularized cruelty-free and inclusive cosmetics. A visionary artist, she used color and texture in her makeup and photography to demonstrate her amazing talent.

Unafraid to push boundaries, Vogue Paris called her "one of the most influential make-up artists of her time". Her makeup line is based on "Human Colors" - a genius idea, as they work on all skin tones. And whether you like your makeup dramatic, or natural, her products will work well for you.

The Concealer is one of my favorite products. And maybe one of the most important to keep in your makeup bag. 

Like the Skin Veil foundation - one of the best foundations I've ever used - the Concealer has a polished finish. It's formulation offers medium to high coverage and will reduce the appearance of blemishes, dark circles and pigmentation (spots). 
It immediately blends into your skin for a flawless, your-skin-but-better finish. It has that velvety matte, healthy skin look. My daughter, who is very fair, uses just the concealer under her eyes, on her nose, chin and forehead. She adds a little setting power and voila! All done.
I need a little more help, so I use it over my foundation. The secret to seamless concealer coverage lies in its relation to the foundation color. Darker skin demands more contrast between foundation and concealer. Lighter skin requires the foundation and concealer to be more similar.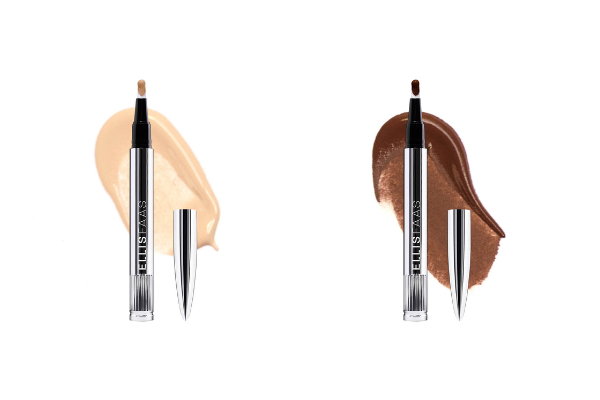 I use S102L (now called S12NP) and S202 Light. It gives me the complexion I've always wanted!
I put a few dots under my eyes and tap into my skin with my ring (gentle) finger. It blurs any fine lines, and covers any darkness for a fresh, I've-just-come-back-from-vacation look.
Other Ways to Use The Concealer
Ellis had a "no rules" philosophy that she shared with everyone. Her unconventional style meant that she wanted you to browse her line like a candy store. Pick what you like, and use it how you want to.
With that in mind, here are some ways to use the concealer that might not be what you expect.
Contour - rather than using a bronzing powder or cream, choose a concealer a shade or two darker than your skin tone. Swipe it on below your cheekbones and blend for that chiseled effect we so love.
Highlight - choose a lighter color and apply it to the tops of your cheekbones. Don't forget the bridge of your nose, and your browbones. Anywhere the light hits your face will bring it to life.
Mix a little concealer with your favorite moisturizer. Apply it all over your face for a lightweight wash of color. You'll even your skin tone without it being heavy or cakey. It's a great weekend look.
Primer - apply a little concealer to your eyelids and lips to help your color stay all day. Not only that, it will add vibrancy to your color.
Sharpen your eyeliner - I think I'm the world's worst when it comes to applying eyeliner. I can mostly get it where I want it, but those beautiful sharp lines just evade my hand. So I'll put a little concealer on an angled brush and aha! The definition I wanted is there.

Cover blemishes - oh yes, we can't ignore this one. I've found that for a lighter blemish, just a touch over my foundation will do. If it's darker or larger, I'll usually start with concealer, very gently apply foundation in a tapping motion, then reapply concealer if I still need more coverage.

Here's What Some Customers Have to Say
"The concealer is a secret weapon…a creamy cover-up that never gets cakey."

Allure's Editor's Favorite
"Love, love, love the expertly created colours that provide perfect coverage that disappear magically into real skin colour."

Cleo Glyde of Vogue Australia

"Well, I'm back [from Australia], not looking quite as jet-lagged as I might thanks, in part, to a new Ellis Faas under eye concealer discovered."

"The concealer is fantastic. I am in my late 40's and dealing with uneven skintone and undereye dark circles and it does a great job in hiding those things but looking natural and does not emphasize the fine lines around my eyes. Super product!"

"By far the best most well-blended natural concealer that I've ever tried. It is perfect for my "panda eyes" and for many years I've only used this concealer (in shade s202) for under my eyes, T zone and sides of my nose, without a foundation and set it with a finishing powder. It brightens my skin immediately. It stays on the whole day."

"For my money, the Ellis Faas concealer, foundation and blush are head and shoulders above anything else on the market in terms of looking absolutely natural (like you were born that way), long-lasting to boot (all day), and not sensitizing, oxidizing or acnegenic in any way on my tempermental skin! Well worth the money, HOLY GRAIL!"

"The main reason I love the EF is that it doesn't give flashback in pictures. It stays on all day and doesn't cake like some under eye concealers do!"

"This concealer is very natural looking. Great for everyday wear. It's super light, moisturising, and blendable. Definitely not one of those cakey concealers. It gives a nice brightness under the eye."

Ellis worked with the world's most pre-eminent fashion designers, photographers, stylists, hairdressers and models. Her work has been published on the covers of the world's best-known fashion magazines.
But she stayed in the background, hoping her work and her brand would stay in the spotlight. 
She wanted you to try it. Take it off and try again. To find your own sense of style. She never wanted it to be more about her product than about you.
Of course, the product had to stand up. To hot lights. Flash photography. Clothing changes. Sweat. Time. Travel. Everything. 
And it does.
We love it! We want you to try it too! So if you'd like a sample, just email me (and include your address).
To your beautiful skin,
Susie:)
IT'S ABOUT CLEAN.  IT'S ABOUT HEALTHY.  IT'S ABOUT SKIN.
Susie Kuse is Passionate About Great Skin and Co-Founder of Indie Beauty Market. She has been in the spa and beauty industry since 2002. She loves to help people understand that a little daily self-care goes a long way toward great skin, health, beauty and happiness. And it's important to keep your products safe, effective, healthy, clean, sustainable and ethical.