The Next 100 Days Will Be the Worst We've Seen for Maskne. Here's Your Solution.

by Susie Kuse
The Coronavirus has not gone away. Yet. Even worse, now it's mutated into a more easily transmissible form. So it's more important than ever to wear a mask whenever you're away from home. And that means more "maskne".
But we can fight maskne in much the same way we can fight coronavirus - cleanse, cleanse, cleanse!
Three Simple Tips for Fighting Maskne During This Dangerous Time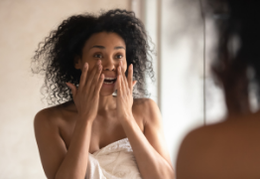 3. Use a moisturizer, especially in the morning. Some of us, especially if we have acne, are thinking of skipping our moisturizer in the morning because the mask holds humidity to your face.
But just like a moisturizer prevents water loss in your skin, it can also act as a barrier to protect your skin from the added irritation of the mask. Irritated skin is more susceptible to bacteria, including the bacteria that causes acne. So use your moisturizer!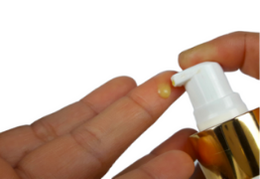 Regular, gentle exfoliation is especially important right now. You'll want to use something that helps speed up cell turnover and removes dead skin cells.
A retinol- or bakuchiol-based product in the evening, like Vital A, Retin+Erase or The Sleep Repair Mask, will go a long way toward keeping acne at bay. And a quick swipe with Rejuvenating Swipes, just 1-3 times a week, will help heal acne and bring back a refreshed, brightened look and texture. 
One last note. Make sure your cleanser is gentle, hydrating and doesn't strip your skin's natural barrier. Here are some of our favorites…
Keep wearing your mask! And make sure you cleanse, cleanse, cleanse! A couple minutes twice a day goes a long way toward clean, healthy skin.
Stay well,
Susie:)
PS - We'll be bringing you a new clean beauty brand from Japan later this month! Look for our emails introducing you to MAKANAI. 
Susie Kuse is Passionate About Great Skin and Co-Founder of Indie Beauty Market. She has been in the spa and beauty industry since 2002. She loves to help people understand that a little daily self-care goes a long way toward great skin, health, beauty and happiness. And it's important to keep your products safe, effective, healthy, clean, sustainable and ethical.