This Giving Tuesday We Gave to the Planet on Your Behalf

by Susie Kuse
Thank you so much for helping to make this our best Black Friday Weekend! On behalf of you, our BEAUTIES, we have donated to the GSNPlanet X WeForest Tree Planting Initiative.
As my grandmother always said, "When you have your health, you have everything." And GSNPlanet's mission is to support the connection between personal and planetary wellness. So we thought they would be a great fit for us.
We chose this project because we felt it aligned perfectly with our (and Grandma's) values.

Healthy. Safe. Effective. Non-toxic. Sustainable. Ethical.
Regenerating forests is critical to our healthy future. We can't stop climate change with just sustainability measures. We have to actively reverse it to keep our planet healthy and habitable. 
Trees have a natural ability to reverse climate change. They take carbon out of the air and it stays in the tree. But we are losing trees by the day. The Amazon Rainforest has lost 19% of its trees. And more than 80% of the Atlantic Rainforest has been destroyed.
Have you ever seen that huge statue of Christ the Redeemer in Rio de Janeiro, Brazil? That's in the Atlantic Rainforest.
GSNPlanet's goal is to plant 1 million trees in the Brazilian Atlantic Rainforest. This forest is a key player in climate change. It's perfectly suited for restoration. It's cost-efficient and has high benefit potential. And the restoration area is about the size of Norway! Huge!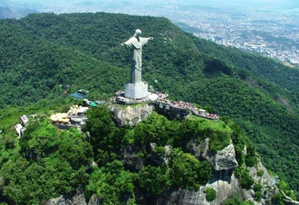 WeForest x GSNPlanet x Indie Beauty Market 
Win - Win - Win!
We like that WeForest uses science to plant trees where they will do the most good. They use local nurseries and people. These people are able to earn a living while restoring the forest. 
We think this is a win-win-win! 
To date, they've planted 360,601 trees (and soon a few more from us!)
We are so excited to share a portion of our Black Friday Weekend proceeds from YOU to help restore our planet! Everyone benefits from a healthier planet.
Thank you so much for enabling us to participate in this initiative, and helping to make even a small difference in the health of our precious planet and the lives of all of us!
Stay well,
Susie:)
Susie Kuse is Passionate About Great Skin and Co-Founder of Indie Beauty Market. She has been in the spa and beauty industry since 2002. She loves to help people understand that a little daily self-care goes a long way toward great skin, health, beauty and happiness. And it's important to keep your products safe, effective, healthy, clean, sustainable and ethical.