This Mother's Day Stay Connected With Your Family Near and Far - 5 Simple Steps for a Home Spa Day!
by Susie Kuse
Mother's Day is the busiest day of the year for restaurants, says the National Restaurant Association. But this Mother's Day is bound to be a little less busy. Our global pandemic is definitely putting a damper on Mother's Day celebrations outside our homes.
But that doesn't mean it has to put a damper on our celebrations inside our homes! How about a relaxing and fun At-Home Spa for Mother's Day this year? If your kids are home with you, this makes it easier. But even if your kids are at a distance, this is still fun to do via Facetime or Zoom! And it gives us the chance to connect with our family on a deeper level than a restaurant conversation might. So get ready!
Here are 5 steps to make your At Home Spa a success.
Step 1: Preparation
You'll want to gather a stack of towels in different sizes. Take some hand towels and dampen them with warm water. You can even spray them if you like with a scented toner. Herbal Dynamics Beauty Calming Rose Water Face Toner or Sacred Mood Mist from Essential Rose work well. You'll use these for removing products from your skin. Use the larger towels to wrap everyone's hair, to keep products out of it.
Assemble your products so you don't have to go looking for them later. Pour some refreshments, like "spa water". Use your favorite still or sparkling water flavored with fresh fruit, cucumbers and/or mint. And turn on some "spa" music, or any other favorite, relaxing music. Last but not least, jump on Facetime or Zoom to connect your loved ones from across the country.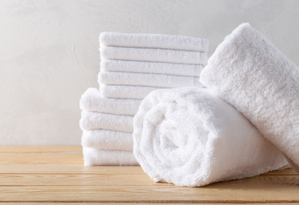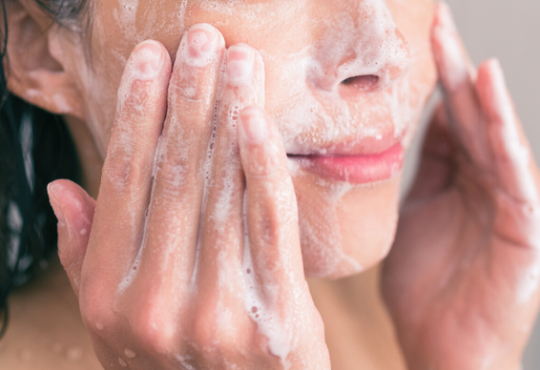 Step Three: Exfoliate
I always say, regular exfoliation is a key to beautiful skin! And certainly important in our at-home spa. Exfoliation removes dead skin cells, revealing the beautiful, living skin cells below. 
We love our Essential Rose Goddess Clay Exfoliant. First of all, anything named Goddess is great with us, especially on Mother's Day! This beautiful powder doubles as an exfoliant and a facial mask. White and rose clay, oats and berries repair and rejuvenate all skin types. It's especially great for sensitive skin. Essential Rose recommends repeating the mantra "I reveal" while you let it do it's work. As in "I reveal the Queen I am within." 
We also love O'o Hawaii's Birdseed Detoxifying Face Scrub - an award winner! O'o Hawaii uses exotic ingredients from Hawaii to create some exceptional products. Volcanic rock, sustainably harvested pearl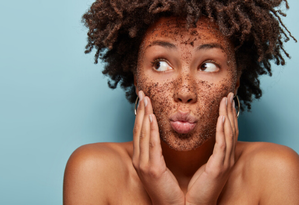 powder, sapphire crystals, and activated bamboo charcoal gently remove dead skin. It stimulates collagen, deeply moisturizes, minimizes pores, and helps to reduce acne, fine lines and wrinkles. Your skin feels rejuvenated, healthier and feather soft when you're done!
If you prefer to let the product do the work, Exfoliant Reveal from Cyberderm is perfect for your at-home spa. Apply it in a thin layer after cleansing (and drying) your skin. Let it sit for 8 minutes, and remove with a warm wet hand towel or washcloth. Voila! Smooth, silky skin! Thanks to an 8% glycolic formula tempered with Arginine, it soothes and repairs visible skin damage. We recommend this for adults and older teens, as a little "stingle" is normal with this exfoliant.
Make sure to be gentle while exfoliating. The products are designed to do the work - you don't need to apply too much pressure.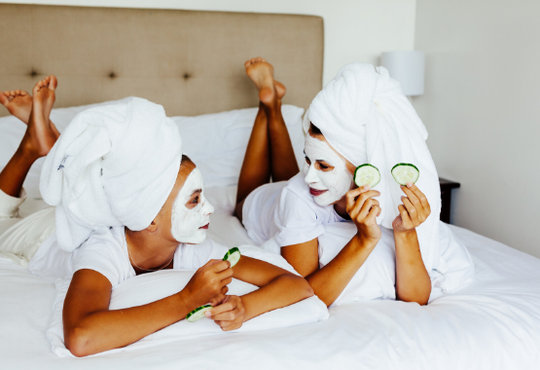 Step Four: Mask
The fun part! Masks are one of our favorite things! They come in all "flavors", colors, textures, and scents. They can uplift your mood and set the world right in just 10 or so blissful minutes.
For oilier skins, we love ingredients like activated charcoal, sulfur and salicylic acid. The gold standard for acne treatment! Two favorites are SkinBuzz's Coal*Bee Charcoal Mask and Herbal Dynamics Beauty Cacao & Chamomile Clearing Clay Mask.
Coal*Bee uses the goodness of propolis and royal jelly from honeybees. They provide  antiseptic, anti-inflammatory, and anti-bacterial moisturizing and healing. Activated charcoal and bentonite clay draw out toxins, unclog pores, brighten and reduce the appearance of scarring. 
The Cacao & Chamomile mask looks and smells like chocolate ice cream (but don't eat it!). You can indulge without the guilt. This yummy mud mask clears and heals your skin with sulfur and salicylic acid. Rich antioxidants from cacao target signs of aging and inflammation. Chamomile soothes and calms, and gentle clay deep cleans pores, reduces blackheads and pore size.
For dryer skins, we love love love the Diamond & Pearl Firming Gel Mask from Herbal Dynamics Beauty. It smells amazing, enhances radiance, smooths, firms, moisturizes and revitalizes a dull complexion. I'm just happier every time I remove it!
Another love is O'o Hawaii's Birds + Roses Rose Quartz Hydrating + Firming Mask. And yes, it hydrates and firms! It also minimizes pores, calms inflammation, softens and plumps. Snow Mushrooms are an ancient Asian beauty secret that draw moisture deeply into the skin. Pure rose and jasmine extracts provide antioxidants as well as an exhilarating scent. And rose quartz crystals promote healing and circulation. This mask is luxurious and petal-soft, with clinical-level results.
A warm wet hand towel or washcloth is best for removing a mask. They're not always so easy to splash off. And you may want to use a colored washcloth, not white, so it's easier to clean later.
Step 5: Moisturize
It's important now to seal in all the good you've just done with a clean, healthy moisturizer. 
Younger, oilier skins do well with SkinBuzz's Bee*You*Tiful Organic Moisturizer. It's loaded with aloe vera, jojoba and grapeseed oils, and beeswax. It will soothe, calm and protect without clogging your pores.
Herbal Dynamics Beauty Prickly Pear and Vitamin C Daily Moisturizer is another good choice. It hydrates and balances, evens skin tone and protects from environmental stressors.
Two favorites for dryer skins are Carter + Jane's The Everything Oil, and Mikel Kristi's C-Radiance Moisturizer. These can be used alone or together for maximum moisturization, healing and firming. Alone or together, they won't give you a heavy, weighty feel. Both these products are lightweight and absorb quickly and easily. Your skin will thank you!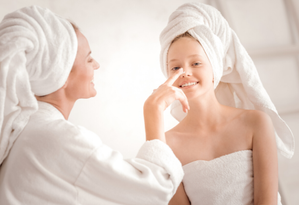 One of the best things about an At-Home Spa Day is the chance to relax and talk with your family. It's just like when you're in the spa, and have an opportunity to chat with your therapist. An activity like this gives you time to enjoy the company of your loved ones. Teach, or learn together, good self-care practices. Strengthen your connections, and create memories that will last a lifetime. Have an At-Home Spa Day this Mother's Day. :)
Enjoy! <3
Susie Kuse is Passionate About Great Skin and Co-Founder of Indie Beauty Market. She has been in the spa and beauty industry since 2002. She loves to help people understand that a little daily self-care goes a long way toward great skin, health, beauty and happiness. And it's important to keep your products safe, effective, natural, sustainable and ethical.