This SPF Serum Does More Than Protect Against Sun Damage
It Actually Stops Aging In Its Tracks
Hello Beauty,
If you've read anything I've ever written, you've probably heard me say, over and over, how important daily sunscreen is to your skin's health and beauty.
It's the number one thing you can do to reduce and prevent signs of aging. Period. 
And the number one thing you can do to prevent skin cancer (well, and staying out of the sun, but let's be practical. We need some sun for Vitamin D, right?) 
Skin cancer is the #1 cancer killer in women 25-34, so yeah, we WANT to wear sunscreen.
And so we love sunscreen. But we hate it too, don't we? Because we don't wear just any sunscreen. We wear mineral sunscreen, since it's the best thing for your health and skin. 
If you're a pregnant or breastfeeding mom, did you know that studies have found chemical sunscreen ingredients in amniotic fluid, breastmilk, blood and tissue?
That was a shocker for Dr. Denis Dudley, creator of The Sunscreen Company. He's a former high-risk ob/gyn and endocrinologist. He was asked by a patient if a particular sunscreen was safe to use during her pregnancy. 
He hadn't thought about that, and asked his wife Dr. Sharon Laughlin, who is a dermatologist.
Together, they delved into skincare and sunscreen formulations. What they found astounded them. 
Chemical sunscreens like oxybenzone, avobenzone, homosalate, octisalate, and octocrylene  get into your blood, tissue and brain. If you're pregnant, they cross the placenta and bind to hormone receptors in the embryo and fetus. 
In 2008 the CDC found that 97% of people aged 6-70 have oxybenzone in their bodies.
The effects from hormone disruptors like these are far-reaching and ugly. Everything from infertility to PCOS. Several types of cancer including breast and uterine cancer, and prostate cancer in men. Also ADHD. Asthma. Parkinson's. Alzheimers. 
You name it. If you don't want it, you should really be thinking about staying away from hormone disrupters like chemical sunscreens.
Our favorite sunscreen ingredient is zinc oxide. No, not the white, sticky, heavy mess you used as a lifeguard on your nose as a teenager. Or on your baby's butt for diaper rash.
Zinc oxide is the only mineral sunscreen that absorbs both UVA and UVB light. UVB produces your burn, but UVA is the long wavelengths that cause aging and cancer.
Zinc oxide is a big fat molecule that can't absorb through your skin and get into your blood. So you'll have no issues with hormone disruption.
But what we dream of is a mineral sunscreen that has no white cast. And our favorite is Ava Isa's Sun-e-Serum Drops SPF35. 
It's 100% as lightweight and silky as your favorite serum. It's probably the lightest weight sunscreen I have ever found. Yet it still contains 25% zinc oxide, giving you all the SPF protection you need on a daily basis.
It's reef-safe, vegan and cruelty-free, and comes in a glass bottle, so you can feel good on the inside too. 
What you'll love is that it applies beautifully, blends and absorbs immediately for transparent coverage on all skin tones. All of them! No white cast. At. All. It's a huge success there.
It also has a demi-matte, velvety finish. It's like having a primer in your sunscreen. 
(Note: some people have found that a foundation over it will pill, probably because of the velvety finish. But I've worn both our foundations - Mineral Air Four-in-One Foundation and Ellis Faas Skin Veil - over it. I've had no problems whatsoever.)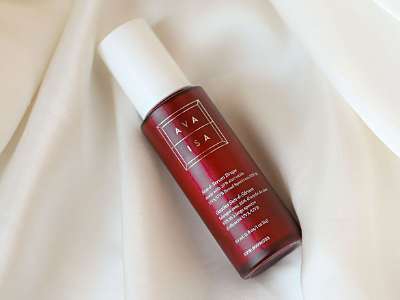 Now, you're supposed to reapply your sunscreen every 2 hours - but how do you do that without smearing your makeup all over the place? This is a win here too. 
It's so lightweight and silky that you can just spread it on your hands and press it over whatever you already have on. Just like that! You've reapplied and not messed up your makeup.
The bonus is - it contains Micah® - an anti-aging ante-oxidant. The first and only product on the market proven to stop sun aging before it begins. 
It effectively prevents visible signs of aging, including loss of skin elasticity, fine lines and wrinkles. (Read that again!)
More than 80% of the skin's aging process comes from solar-induced oxidative stress.

Micah stops solar-induced photoaging before it starts.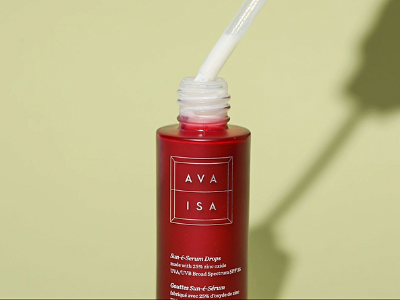 It's a whole new category of sun protection and antiaging. 
It 100% prevents inflammatory responses, DNA damage, free radicals, and reactive oxygen species (ROS). These are the 4 things that cause aging from the sun.
So since you need to wear sunscreen every day, rain or shine, isn't it nice to have an ingredient that stops aging in your sunscreen? Makes you want to wear it even more now, doesn't it?
Here's what customers say:
★ ★ ★ ★ ★
This keeps melasma away!
"I LUV this sunscreen serum! It's 25%zinc, broad spectrum. I have melasma so sunscreen is key. After applying and reapplying, by the end of the day, my skin looks AMAZING! it feels a Lil oily when u first apply, but it dries powder soft and COMPLETELY clear. Doesn't feel like u have caked on sunscreen. I HIGHLY recommend it. Just make sure u shake it good."

Don
★ ★ ★ ★ ★
Excellent sunscreen for combination skin
"I like its texture. It's very lightweight and can be easily spread, leaving no awkward white cast but a sheer cover on the skin for makeup. I have been using it in my morning routine for more than two weeks and I feel it's protecting my skin from the late-summer sunshine. I have combination skin with few acne problems before periods. I feel this sunscreen serum is also helping to balance the skin oil. My face looks less greasy in the afternoon when using it. I will definitely repurchase it."

Michelle K
Think you will love it? We do!
The texture is amazing. It sweeps on like a dream. The velvety finish is beautiful, and no white cast! Plus the fact that you can re-apply with no damage to your makeup is huge.

To your beautiful skin,
Susie:)
IT'S ABOUT CLEAN.  IT'S ABOUT HEALTHY.  IT'S ABOUT SKIN.
Susie Kuse is Passionate About Great Skin and Co-Founder of Indie Beauty Market. She has been in the spa and beauty industry since 2002. She loves to help people understand that a little daily self-care goes a long way toward great skin, health, beauty and happiness. And it's important to keep your products safe, effective, healthy, clean, sustainable and ethical.