Which Vegetable is a Powerhouse For Your Skin?
Hello Beauty,
Have you seen (or experienced) cucumber slices on your eyes at the spa? We used them in my spa, and not just because they were fun and looked oh-so-spa.
Cucumber is an anti-aging powerhouse for your skin. Here are the top 12 reasons why you'll love the results you get from cucumber.
12 Stimulates collagen for plump, youthful skin with Vitamins A and C. And it's great for reducing acne lesions, redness and pain. It speeds healing and minimizes acne scarring.

11 Reduces redness, itching, and inflammation. It may help restore skin barrier function, increase hydration, and reduce water loss with quercetin.

10 Relieves red, irritated, acne-prone and dry skin. Improves the appearance of fine lines and wrinkles. Balances skin, calms redness and irritation. Boosts the radiance of dull and mature skin, diminishes dark spots and evens your skin tone with B Vitamins.

9 Lightens age spots, and minimizes the appearance of freckles or blemishes. And lightens dark under-eye circles. Vitamin K binds pigments and carries them out of the cells.

8 Hydrates - cucumbers are about 96% water. This helps all the other nutrients get into your skin, and adds moisture. When your skin is properly hydrated, it looks healthier overall.

7 Tightens skin and helps it bounce back with elastase.

6 Controls hyperpigmentation with the use of tyrosinase inhibitors, targeting the key first step. Cucumber extract is a powerful inhibitor of tyrosinase.

5 Reduces skin oiliness, combats wrinkles, dark spots and other signs of aging with magnesium.

4 Balances electrolytes and keeps skin hydrated. It smooths wrinkles and age spots. Protects against UV rays and naturally moisturizes and hydrates skin cells with potassium.

3 Great for wound healing and increased collagen production. Reduces inflammation, and helps with vitamin absorption with manganese.
2  Softens the appearance of fine lines and wrinkles. Great for treating scarring, pigmentation, and redness caused by inflammation with copper peptides.

1 Helps develop strong and healthy connective tissue. It stimulates the production of collagen type 1 - the type that minimizes fine lines in youthful skin. "Silica is strongly linked with healthy youthful skin," says Isabel Sharkar, a naturopathic doctor.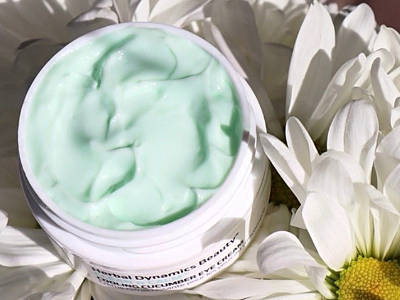 The next time you pick up a piece of cucumber on your fork, remember that it's even better for your skin!
We love Clean & Calm Cucumber Cooling Eye Cream from Herbal Dynamics Beauty. It reduces eye puffiness, soothes and cools, fights inflammation, and reduces dark circles.

Here's what customers say:
★ ★ ★ ★ ★
Love!
"I absolutely love this stuff! It has significantly helped to reduce puffiness under my eyes. I will be refilling." 
- Emily Neil
★ ★ ★ ★ ★
Cooling cream!
"This eye cream feels great. It is cooling, light and absorbs well." 
- Marsha (Petersburg, US)
★ ★ ★ ★ ★
Happy eyes
"The smell is heavenly and the skin around my eyes loves this! will purchase again!" 
- Merrily Garrett (Austin, US)
Is it any wonder that cucumber is such an amazing ingredient for your skin?
Just make sure you go natural. Avoid products with harsh chemicals, artificial fragrance and toxic ingredients.
It's good for your whole body. Especially the thin, delicate skin around your eyes.
To your beautiful skin,
Susie:)
Susie Kuse is Passionate About Great Skin and Co-Founder of Indie Beauty Market. She has been in the spa and beauty industry since 2002. She loves to help people understand that a little daily self-care goes a long way toward great skin, health, beauty and happiness. And it's important to keep your products safe, effective, healthy, clean, sustainable and ethical.