Father's Day Gift Guide 2021
by Susie Kuse
Father's Day is just around the corner. And dads have a special place in our hearts. In fact, that's the newest dad in our family in the picture above. Shout out to my nephew-in-law, Schuyler, my niece Colleen and their new baby daughter Scarlett! (And that's Lacy and Harley, their furry kids, with them.)
So we wanted to help you out with a gift guide for a new dad, a seasoned dad - even the dad who has everything!
We know that skincare and shaving products don't hold a candle to detailing his truck. Giving him the remote for the day. Or firing up the grill so he can eat his weight in red meat!
But with a homemade card (and maybe one - or all - of those suggestions) he will know you care. The important thing is to make sure he feels appreciated.
I know my dad sure felt appreciated the first time I beat him at golf. He looked at me and said, "Yeah, you had to wait until I was old and arthritic." I looked him back, square in the eye, and said, "I'll take it."
Haha - then I reminded him that he always taught me the mark of a good teacher is when the student outperforms you. And my dad has always been my best golf coach. 
I could even call him from the tee box in another state. I'd tell him,"I'm hitting to the left. I never do that!" He'd say, "Are your hands in the right position? Try rotating your right hand to the outside a little." Whatever he told me, it always worked!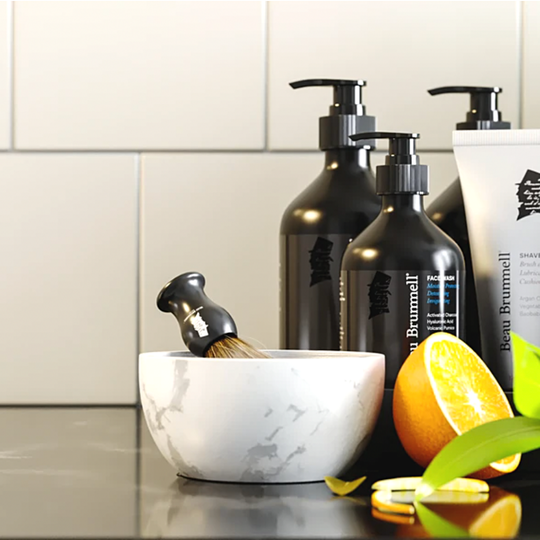 Another thing my dad always likes is what he calls "looking sharp". It doesn't necessarily mean being all dressed up. It's more like looking clean and well put together. He appreciates great quality in everything.
And high quality is the first thing I always look for today.
He loves the quality of our men's collection. So I know your dad will look and feel ready to win daily with these manly products.
Carter + Jane
Beau Brummell for Men
Mikel Kristi
Enjoy your Father's Day Gift Guide! And to show how much we appreciate you, we're giving you a
FREE 2 oz Purifying Wash
with the purchase of any gift in the guide.  ($25 value!)
Just add it to your cart, and use the code "DAD" at checkout.
Hope your Father's Day is awesome.
Stay well!
Susie:)
Susie Kuse is Passionate About Great Skin and Co-Founder of Indie Beauty Market. She has been in the spa and beauty industry since 2002. She loves to help people understand that a little daily self-care goes a long way toward great skin, health, beauty and happiness. And it's important to keep your products safe, effective, healthy, clean, sustainable and ethical.