My Favorite Taramar Products That Will Make Your Skin Healthy and Radiant
Years of research and scientific analysis. 
Thousands of compounds tested and rejected. 
Breakthrough discoveries and careful harmonic balancing. 
That's what it's taken to create every single one of Taramar's incredibly effective products. And the quality speaks for itself… proven, visible results in 1-3 days!
A recent Taramar customer said… 
"Absolutely insane products. I have tried quite a lot [of skin products] over the years and there is NOTHING that comes close to what these products do for the skin 👍"  - Magnea Helga
We couldn't agree more! 
At Indie Beauty Market, we feel that Taramar's standard of excellence is at a whole new level. They're leading the field in the green revolution for personal care products.
These are the 5 incredible skin care products I've been using every day since I visited Iceland and met the Taramar team in August. They're keeping my skin healthy and beautiful! They'll do it for yours too.
Here are my 5 favorites…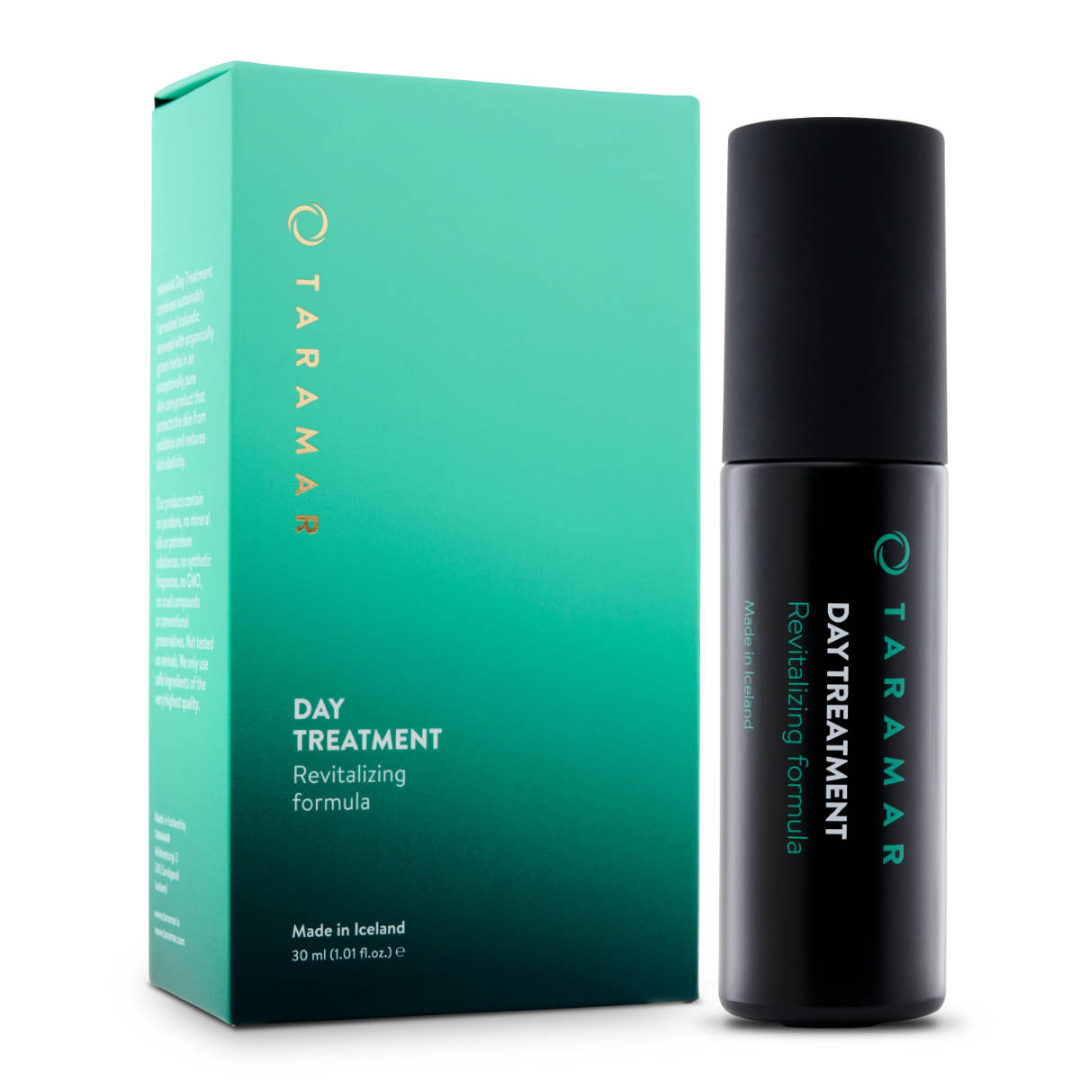 The Day Treatment is the first facial care product designed by Taramar. It was 4 years in the making. 

Runa (Taramar's founder) said that her biggest challenge was to achieve 100% purity. That meant conventional preservatives or stabilizing synthetics could not be used. They would have to be replaced with organic, natural compounds. 
She told me, "When you start to age, you gradually start to accumulate toxins in your cells. The Day Cream is made so that it enters into the deeper layers of your skin. It restarts the metabolic activity and at the same time starts detoxification of the skin.
I can tell you that after 3 years of using it, I'm still seeing changes. That's pretty amazing!"
The Day Treatment is the perfect example of an ingenious innovation. For the first time, bioactives from ocean plants and organic herbs are blended in complete harmony. 
This delicate, luxurious cream is packed with organically derived antioxidants and nutrients. 
It boosts the energy of your skin cells and supports and stimulates healthy metabolic activity of your skin. 
The outcome is smooth, elastic, radiant skin.
Pretty amazing. I love this day cream, even more than the $450 day cream that is now sitting on my counter, unused. I can't believe how much more effective the Taramar Day Treatment is.
Runa says, "The night cream is hydration and nutrition that you need overnight, but with very strong components working on wrinkles. I'm not too worried about my wrinkles. But I'm getting 2 wrinkles here at the axis of the mouth that I really don't like. So with the night cream, I was on a mission (to fix those wrinkles!). 
Sometimes I'm out of night cream and I haven't had time to go to our marketing department to pick up more, and then I see this wrinkle reappear. So it is definitely working. I'm very happy with it."
I'm very happy with it too! I've noticed that my lip lines are fainter, and the lines in my neck - so hard to fix! - are better too.
This delightfully light but luxurious night cream immerses your skin in soothing hydration. It will soften, smooth, and revitalize your skin as you sleep. 
The gentle actives of this cream reconnect your skin's layers and boost collagen synthesis to unlock true transformation. 
The result is skin that's even, smooth, and radiantly beautiful. You'll love what you see in the morning. :)
It's won Five International Awards: 
Gold, Scandinavia Global Makeup Awards 2020
Gold UK Golden Global Makeup 2021
Silver, Green Global Makeup Awards 2021
Gold, Free From Skincare Awards 2021
First prize, Nordic Natural Beauty Awards 2021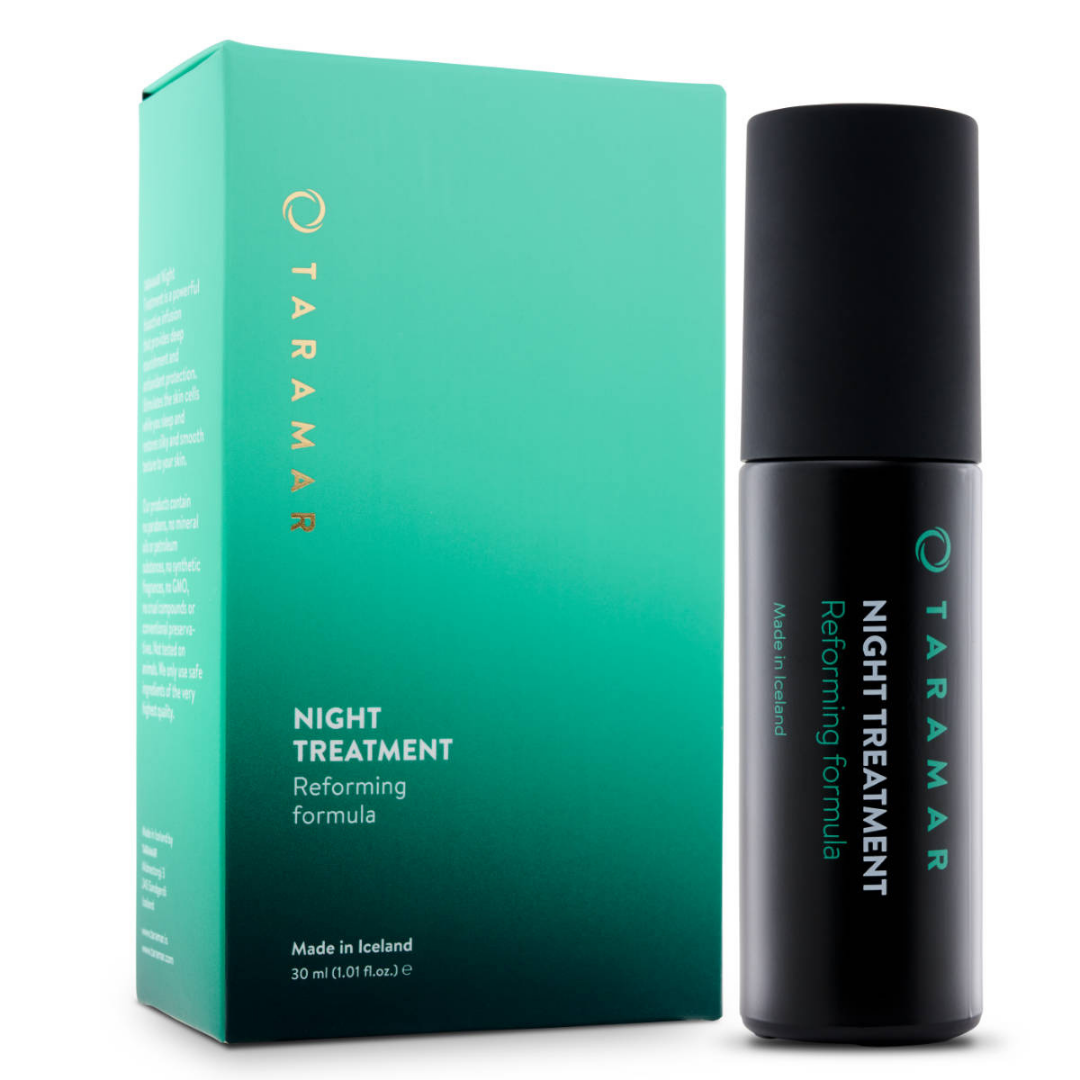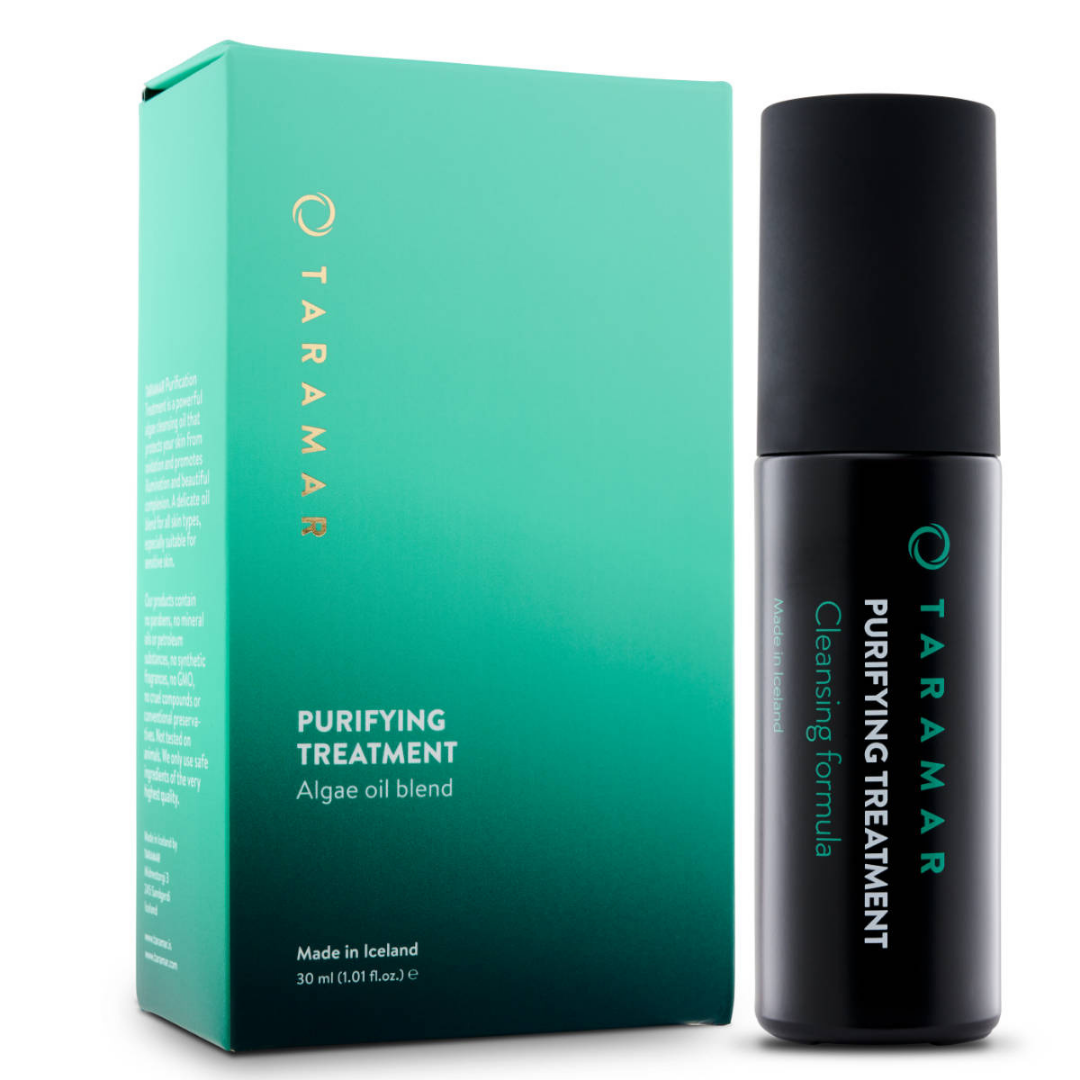 Most skin "cleansers" are alcohol-based and chemically overloaded. Not Taramar's Purifying Treatment. They created a totally pure, all-natural solution that could provide deep cleansing effects. 
It not only cleanses your skin, but it heals and strengthens it with bioactive compounds extracted from algae and herbs. 
These amazing extracts take 6 months to reach maturity using slow cosmetic technology. 
You'll see your skin respond positively, almost immediately.
Runa explains the Purifying Treatment this way:
"Women use Purifying Treatment as a cleansing oil, and they're very very happy with it. But I didn't design it as a cleansing oil. I was thinking of the Japanese geisha, you know, I wanted this perfect skin. And when I use it I'm doing that. I'm tightening my skin. When everybody else is doing it they are cleansing their skin."
I found that so interesting, that Runa designed this to be a strengthening and tightening treatment, not a cleanser. 
But when they tested it at Dermscan, they found it was deeply cleansing, so they changed their minds about how to recommend it.
I think this is one of my favorite Taramar products because my skin feels so amazing after I use it.
Runa told me that you can actually use this as an overnight treatment, and I've done that. 
I just use it to cleanse, then remove it with a warm wet washcloth, then re-apply it and go to bed. My skin is so happy in the morning!
We recommend this overnight treatment once or twice a week, especially for our sensitive-skin customers.
"I am just over thirty and had my first child in 2018. Due to my lack of sleep for the first 1 and a half years, I had bags above my eyes that did not disappear despite the fact that sleep had returned to normal. Alas, my eyes looked quite puffy, all the time. 
I used 1 bottle of this Eye Treatment cream almost every night and now there is a huge difference. I have continued to use this cream and bought it repeatedly because I see so much difference around my eyes and I don't look like a tired mom 🙂 Will definitely use this every day with the next baby!." - Vala Ragnarsdottir
I noticed a huge difference too - I didn't have bags but I did (past tense!) have wrinkles. The Eye Treatment gives you a noticeable difference fast, and keeps getting better from there. And you can use it on your eyelids, as well as under your eyes. So buh-bye crepey eyelids! I love it.
The Taramar Eye Treatment combines sustainably harvested Icelandic seaweed extract (the ArcticComplex™) with handpicked Arctic herbs. 
The result is an astonishingly effective skin lifting formula. 
It nourishes and supports your skin, works against bags and dark circles in the eye area. 
Its ability to tighten sagging skin on eyelids, face, and neck areas (yes, neck too!) is impressive. 
This formula contains no toxic or irritating chemicals. It is safe for the areas of skin around your eyes.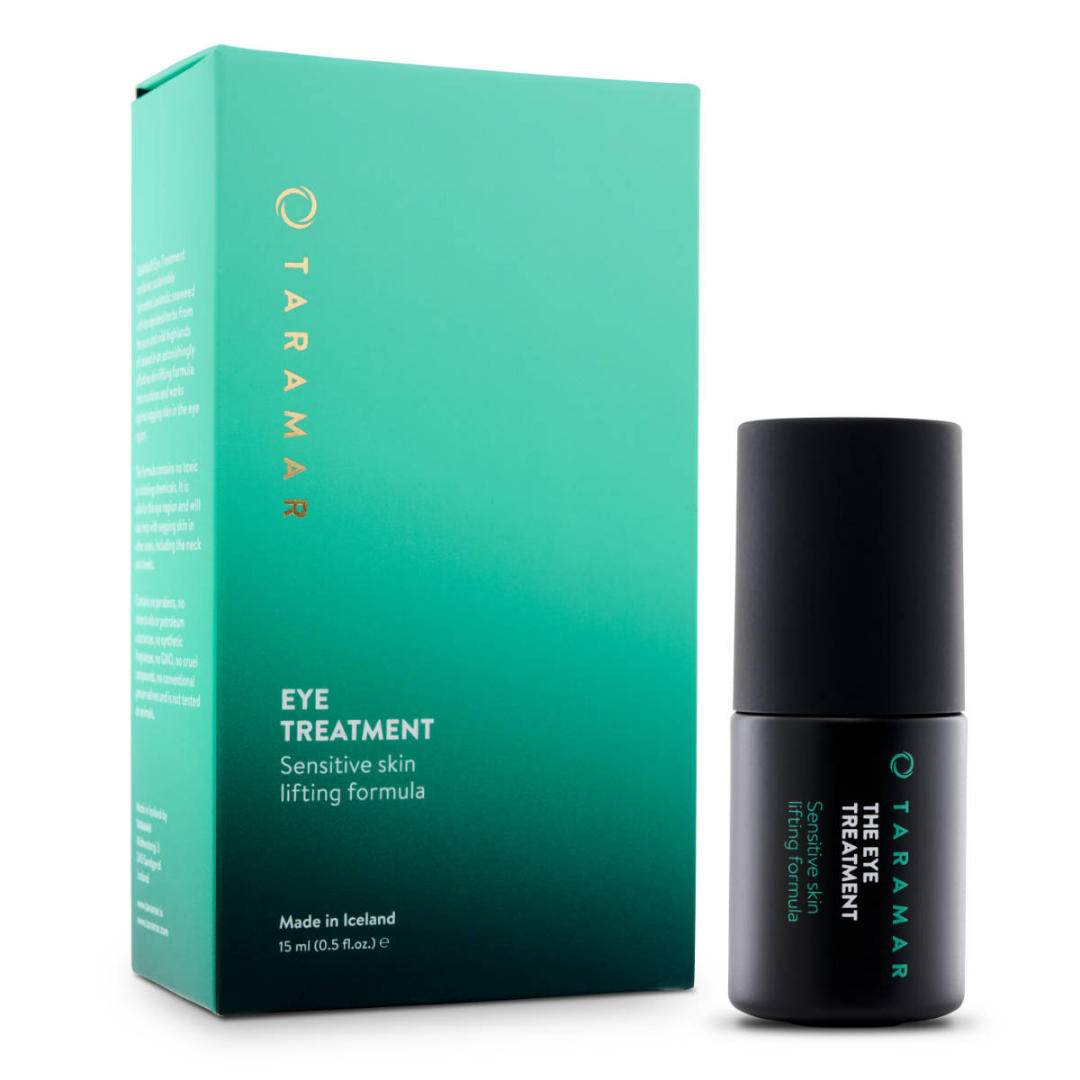 Runa says of the Serum:
"I'm very proud of the serum. I managed to make a serum that has no sticky feeling to it. It immerses into your skin immediately when you put it on. It's helping some people with some serious skin problems."
I know she's happy that it's not sticky - but I'M happy with how incredibly effective it is!
It will quickly repair, reshape, rejuvenate, and restore your skin. 
It uses powerful Icelandic seaweed extracts and organically-grown viola tricolor to increase hydration and collagen levels in your skin. 
Taramar's patent-pending technology, NoTox®, is free from any cruel or harsh compounds. It's food for your skin that's so gentle, it's technically edible!
The Serum promotes a healthy, fortified complexion. So fine lines, dryness, and wrinkles melt away. It supports the skin in looking ageless while using only the purest, most natural ingredients.
All of this adds up to a beautiful, radiant, youthful, softer, and more luminous complexion.
And it won Gold at the Scandinavia Global Makeup Awards 2020.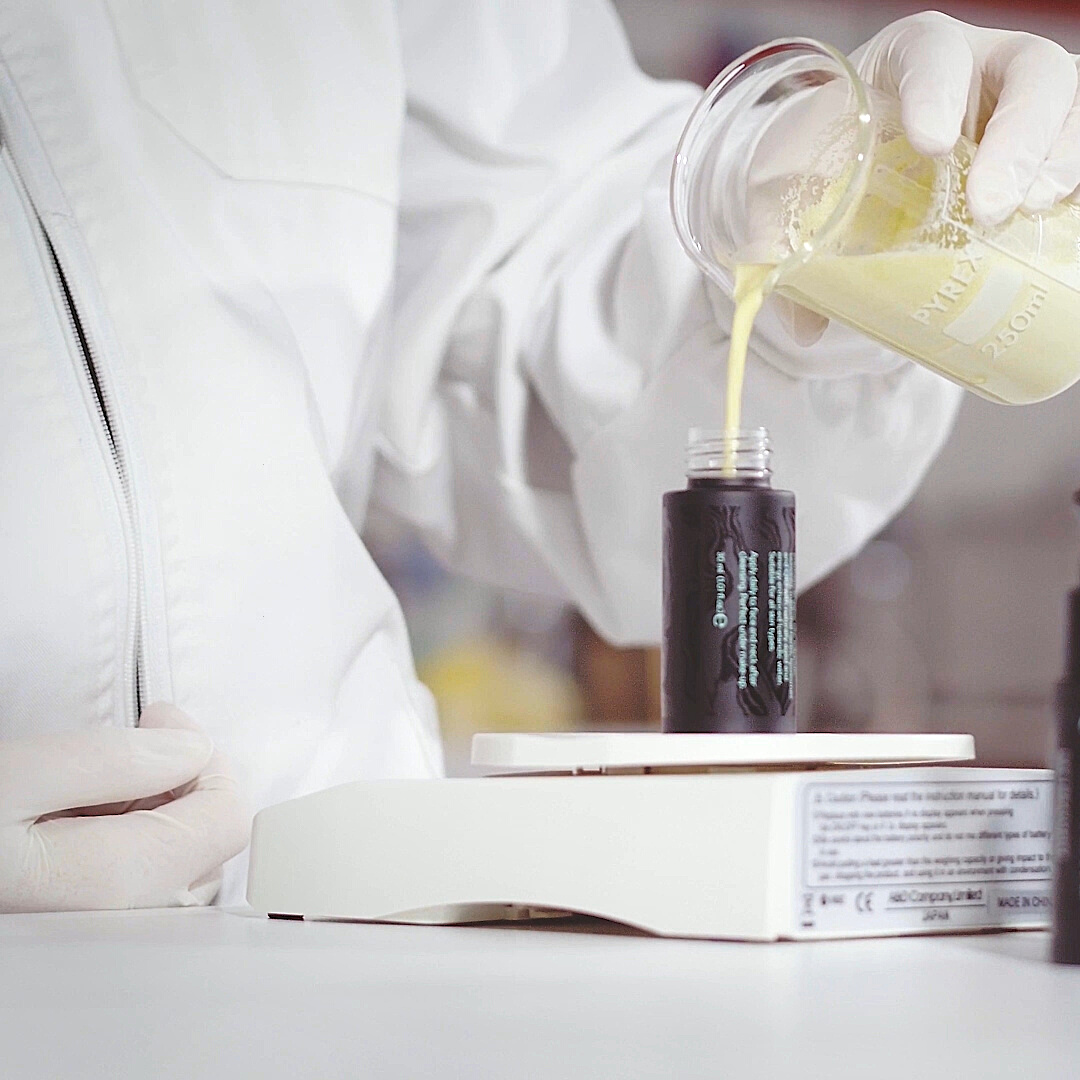 The efficacy of The Serum has been tested by an independent French laboratory, Dermscan. During this scientific testing, 36 women aged 45-65 applied The Serum to their facial skin 2x/day for 28 days. Afterward, their skin had visibly fewer wrinkles, higher collagen density, and an opulent glow. 
And human skin is human skin – so it works for men as well! We all face skin problems as we age, and The Serum is a pure solution to rejuvenate your skin each day.
And there you have it - my 5 product regimen for amazing results using Taramar, from Iceland.

Here's how I do it. Takes less than 2 minutes, morning and evening.
Morning:
Cleanse using Purifying Treatment
Apply Eye Treatment
Apply Day Cream 
Apply Sunscreen
Evening:
Cleanse using Purifying Treatment
Apply The Serum
Apply Night Treatment
Once or twice a week, I'll skip the Serum and Night Treatment and just re-apply Purifying Treatment, then go to bed.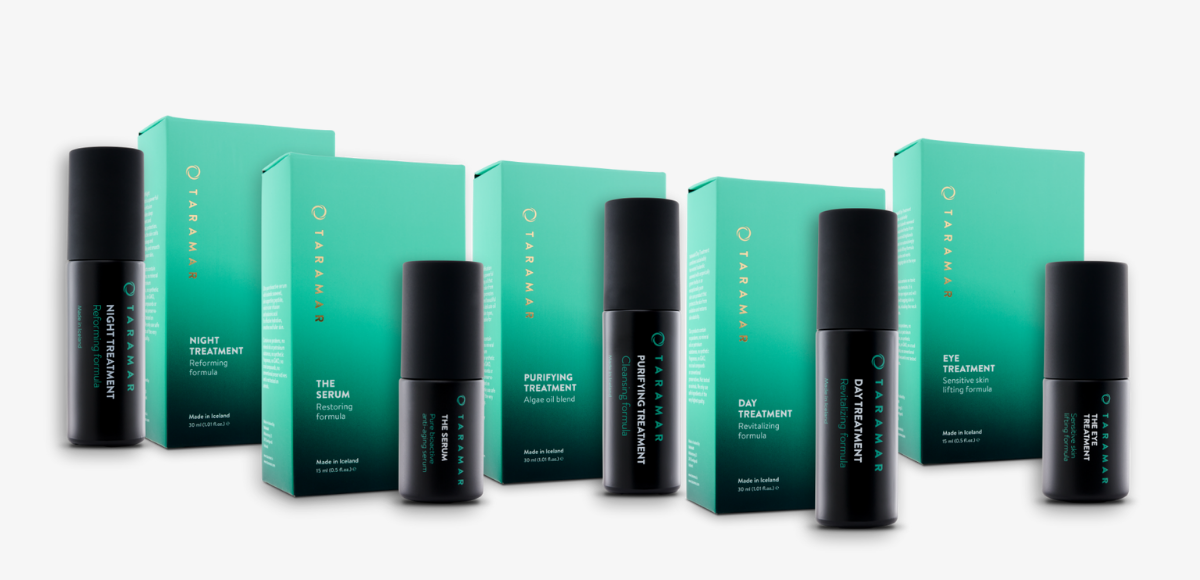 If you'd like to try Taramar, there are a few ways to do it. You can order the Personal Regimen Kit. And add a note to your order, or to your Skin Quiz Response, that you'd like to try Taramar. I'll send you samples of the full regimen, plus a second regimen, and a twice-a-week regimen. And some goodies I think you'll like based on your responses. 
The Personal Regimen Kit costs $10 plus shipping.  I'll send you a $10 gift card though. So if you find something you love, you'll get your $10 back :)
Or just send me an email and let me know you'd like to try Taramar. I'll send you a couple samples so you can see if you like it, and if it works well for you.
Or you can get The Treasure Chest, with Purifying Treatment, The Serum, Day Treatment, and Night Treatment. (pictured at the top)
And as always, I recommend replacing whatever you're almost out of with new Taramar. So for example, if you're almost out of cleanser, order The Purifying Treatment.
I really love Taramar, and I think you will love it too!
Warmly,
Susie:)
Susie Kuse is Passionate About Great Skin and Co-Founder of Indie Beauty Market. She has been in the spa and beauty industry since 2002. She loves to help people understand that a little daily self-care goes a long way toward great skin, health, beauty and happiness. And it's important to keep your products safe, effective, healthy, clean, sustainable and ethical.