Repair Sun Damaged Skin and Maintain a Healthy, Natural Glow
Add this clean beauty, high-powered serum to your routine today
Hello Beauty,
Summer is my favorite season. Who can resist a clear blue sky, warm breeze and sun-warmed skin? We love that sun-kissed glow, but it can sure cause some serious damage if we're not careful. And we've all had a sunburn or two. As my husband says, while applying sunscreen, "It's not will I burn, it's where."
So we're thrilled to have a product in our bag that can help you repair sun-damaged skin and maintain a healthy, youthful glow.
Of course, a good skin regimen still involves good nutrition, mineral sunscreen, and a lot of water!
But your face needs extra love, and we love the love and aloha from O'o Hawaii.
Founded by Holly Harding, integrative nutrition coach and food-for-beauty expert, this stunning brand gives us a super-simple routine with a minimum of products.
Holly developed the line to care for her own skin repair from her surfer-girl lifestyle. Combating the harsh effects of sun and sea is not easy.
"The combination of diet, supplementation and highly functional skincare is the key to beautiful, glowing, ageless skin," says Holly. "Taking care of yourself inside and out will ensure that your skin is working at it's absolute best."
There are 7 products in the line, and in our opinion, the powerhouse is Golden Nectar Brightening + Firming Ferulic Serum.
Also known as "The Good Stuff", Golden Nectar is chock full of Vitamin C. And Ferulic Acid, Sea Kelp and Hawaiian Red Algae. It effectively combats the damaging effects of the sun. It has anti-inflammatory properties and protects against UV stress. It even works as a spot treatment for acne.
It's Holly's favorite, and our favorite too. One pump and you can feel it working. It delivers visible results in just 3 days.
Here's why…its complex formula makes it super simple to repair sun damage, tighten, brighten and reduce visible signs of aging. Here are some of the key ingredients that deliver these amazing results.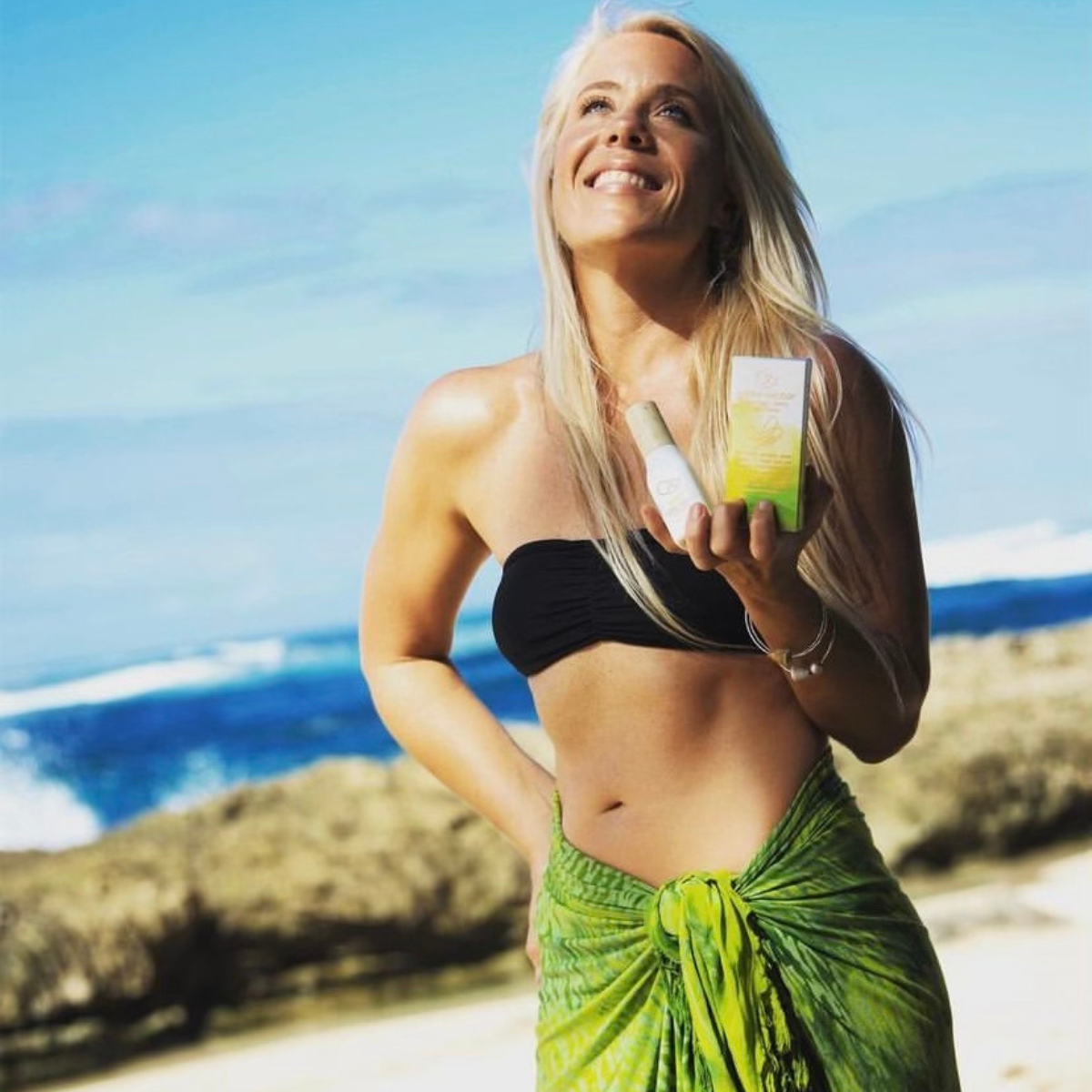 Hawaiian Noni - This magic fruit is considered antibacterial and anti-microbial. It supports the immune system. It's an antioxidant and anti-inflammatory. The rich fatty acids in the fruit enhance the function of cell membranes. They aid in absorption of good nutrients. Yet they allow toxins to filter out of the cell. Cells are more likely to maintain and transform to healthy function.
Sea Buckthorn - is an impressive source of Vitamin C. As well as Vitamins A and E. It heals, repairs, conditions, and reduces symptoms of prematurely aged skin
Ferulic Acid - reduces the development of fine lines, spots and wrinkles. It treats and improves sun damage. It's an antioxidant. It stabilizes and boosts the effectiveness of other antioxidants. It strengthens and firms, and is anti-inflammatory. What a powerhouse!
Giant Sea Kelp - is mineral and antioxidant rich. It softens and hydrates your skin. It helps retain moisture, reduce breakouts, and removes toxins.
Hawaiian Red Algae - is a powerful antioxidant. It increases moisture and moisture retention. And it promotes elasticity and smoothness.
Rose Quartz Crystals - smooth wrinkles, improve elasticity, and give you a luminous glow. They improve circulation, allowing deeper penetration of other ingredients. And they reduce redness.
Pineapple Enzymes - gently remove dead skin cells and toxins.
Milk Thistle - is a potent inhibitor of UV-induced oxidative stress. It helps prevent free- radical damage, and slows the aging process.
Hawaiian Sandalwood - is most known for its uplifting scent. It is also used for its diverse medicinal properties.  It's an antiseptic and anti-inflammatory. It's commonly used for its astringent ability to tone the skin. It reduces acne, redness, and discoloration. We love the exotic scent of Hawaiian sandalwood in Golden Nectar!
Holly has imbued her brand with a beautiful complexity of ingredients. But her skincare regimen remains simple. Her formulas are high-performance, highly concentrated (so you don't need much!) and all vegetarian. Cruelty-free, too.
To your beautiful skin,
Susie:)
IT'S ABOUT CLEAN.  IT'S ABOUT HEALTHY.  IT'S ABOUT SKIN.
Susie Kuse is Passionate About Great Skin and Co-Founder of Indie Beauty Market. She has been in the spa and beauty industry since 2002. She loves to help people understand that a little daily self-care goes a long way toward great skin, health, beauty and happiness. And it's important to keep your products safe, effective, healthy, clean, sustainable and ethical.