Spa Secrets for a Beautiful Rose-Filled Valentine's at Home
by Susie Kuse
It's Valentine's season, and Valentine's is such a nice time of year for the spa. Maybe it's because we're getting sick of winter by now, and the spa is so warm and inviting and peaceful. 
Or maybe for me it's because I love roses so much. At my spa, we always had rose petals everywhere. When you came for a massage, there would be a pretty little square plate with rose petals on the massage table. Your therapist would slide it under the face cradle, so when you're laying there you're not staring at the floor. You're looking at a plate full of rose petals. 
We had bowls of them in the locker room, the meditation room, and on the concierge desk. The deck of the tub was strewn with them.  And especially during Valentine's season, we tossed them in the tub and the pedicure bowl too.
Of course, we also love that roses and rose oil are great for your skin. They're anti-inflammatory and reduce redness. They're astringent and antibacterial and great for people with oily or acneic skin. They're loaded with vitamins C and E, help build collagen and are so moisturizing! They're great for all skin types and their scent is so uplifting and calming. 
By now though, most spas are booked for Valentine's weekend. So if you've missed your opportunity to book the spa for Valentine's - it happens to the best of us! - here's a beautiful rose treatment you can try at home.
First, Create Your In-Home Spa Environment

You'll need a few hand towels at a minimum. And a source of water. It can be your sink, or you can fill a big bowl with warm water. We loved to float a flower or some rose petals in a beautiful bowl of water in my spa.
Another thing we did was scent our towels. We would soak them in warm water with a few drops of an essential oil (like lavender or eucalyptus). Then we wring them out and roll them up, and put them in a hot towel cabi - ready for treatment.
You can get the same effect at home by soaking them in warm water, wringing them out and then spraying them with a scented mist or toner. You can make this by adding a few drops of an essential oil to water in a spray bottle. Or, from our store, you could try Herbal Dynamics Beauty Rose Water Calming Face Toner. Or any of their Essentials Hydrosol Mists - choose from cucumber, rose, tea tree, lavender or peppermint.
Speaking of cucumber, we had a fresh supply of cucumber or cucumber mint water on hand to quench your thirst. Strawberries are lovely for Valentine's though, with their pretty red color and heart shaped slices. :) Don't forget a pretty glass to add to the festivity!
For special occasions like this, we offered champagne and chocolate covered strawberries as an add-on to our treatments. And chocolate-covered strawberries are so easy to make! (Here's my favorite recipe from Food Network.)
Next, ambiance. Light a delicately scented candle, and ask Alexa for some spa music. 
Jump into a comfy robe, and voila! You're ready.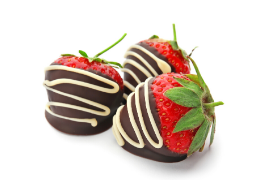 Now - Your Treatment
We had rose treatments of every variety for Valentine's Day. Massages, body scrubs and wraps, manicures, pedicures, and of course, facials. My favorite treatment is a facial, so I'm sharing a rose facial with you here. You could easily adopt this for manicure or pedicure though. If you want to trade massages with your loved one, or hire an in-home masseuse that day, you could combine the Rose Oil with a carrier oil like jojoba or coconut for a body massage.
Valentine's Roses Facial Treatment - Perfect for Valentine's Day or any other day you want to experience a little love...💗
After this treatment, our clients might proceed to a massage or spend some time in the meditation room, just relaxing. Whatever you choose to do next, I hope this treatment provides you some relaxation and love, anytime you need it! 
Remember to love yourself this Valentine's Day, and every day. Self-care is self-love, and you need a little self-care every day for your skin, your health, your beauty and your happiness.
Susie Kuse is Passionate About Great Skin and Co-Founder of Indie Beauty Market. She has been in the spa and beauty industry since 2002. She loves to help people understand that a little daily self-care goes a long way toward great skin, health, beauty and happiness. And it's important to keep your products safe, effective, natural, sustainable and ethical.