Vitamin K for Dark Circles
Heal and Prevent Dark Circles and Restore Your Skin to Good Health
Hello Beauty,
Do you, or does someone you know, have dark circles under their eyes? This is one of the most common beauty complaints. Almost all of us experience this at one time or another.
Why? Sometimes it's just a lack of sleep. Seasonal allergies can cause them too. A long flight or an overly stressful week can do it. Or it can be a sign of a more serious condition, like poor nutrition. Or rising stress levels that can cause exhaustion (the medical term, not the descriptive one.)
For some of us, they're hereditary. For most of us, they're a result of hyperpigmentation caused by environmental factors like sun exposure, smoking, and poor sleep.
Aging plays a part too. As we age and our skin gets thinner, the blood vessels under the eye are closer to the surface. Making them more visible.
The skin under our eyes is very thin, very delicate, and can be sensitive too. It's so easy for the tiny capillaries to become damaged and leak blood. Then your dark circles are technically a bruise, just like a bruise anywhere else on your body.
So how do you get rid of them? 
Some home remedies, like cold tea bags or cucumber slices, give a great temporary fix. And they can be fun and relaxing too.
But if dark circles plague you on a daily basis, you may want to turn to a Vitamin K contouring eye cream.
Vitamin K is a super-healer for the skin. It's an essential nutrient that plays a role in bone growth and blood clotting. It has been shown to improve the appearance of scars and other signs of aging.
It's a fat-soluble vitamin that is found naturally in foods such as leafy greens, broccoli, beans, eggs, milk, cheese, and meat. It is also available in supplements.
And seaweed. One study found an obvious difference between skin aging in Japanese women who regularly consume seaweed, which is packed with vitamin K, compared with Caucasian women of the same age who do not eat it.
Why Do We Need Vitamin K?
Vitamin K plays an essential role in blood clotting. It has great blood-clotting properties. It helps the skin dissipate bruising and discoloration. It promotes wound-healing too.
It also supports bone growth and healthy teeth. In addition, it has been shown to help prevent osteoporosis and improve bone density.
Vitamin K works by helping to strengthen blood vessels to prevent breaking or damage. This means that vitamin K is effective in preventing the root cause of dark circles under the eyes. In fact, many doctors will recommend a Vitamin K cream for two weeks prior to surgery or laser treatments to prevent excessive bruising.
It's a potent antioxidant, protecting against free radical damage from sun, smoking and pollution.
It's instrumental in cell growth and tissue renewal, giving you a younger-looking, more radiant complexion.
It helps reduce the appearance of fine lines and wrinkles by protecting the collagen in your skin. And it helps maintain the elasticity of your skin by inhibiting the breakdown of elastin. So you'll have stronger, firmer, plumper skin. Keeping those tiny capillaries well-protected. Giving you a more youthful, more rested appearance.
Vitamin K is also anti-inflammatory, making it great for conditions like eczema and psoriasis. Using a Vitamin K topical cream and including Vitamin K-rich foods in your diet can help keep inflammation in check.
Vitamin K may not be the first vitamin you think of for anti-aging. Vitamins A, C and E may come to mind first. But Vitamin K definitely deserves a place in your skincare regimen, and your diet. It will help heal and prevent those annoying dark circles, prevent other skin issues and restore your skin to good health. And you know, it'a all about clean, healthy skin.
Which Products Contain Vitamin K?
There are several products available that contain vitamin K. These include creams, lotions, serums, and gels. They are designed to help improve the appearance of scars, stretch marks, and other signs of aging.
Here are a couple of Indie Beauty Market team favorites for adding Vitamin K to your regimen.
Herbal Dynamics Beauty Vivid Revival Vitamin K Contouring Eye Cream: Powerful botanicals target dark circles, puffiness, and signs of aging to deliver plump skin and radiant, youthful eyes.
Vitamin K reduces dark circles by boosting circulation and supporting the body's healing process.
Green tea and gingko biloba both hold anti-inflammatory properties, reducing puffiness and fighting signs of aging.
Hyaluronic acid plumps skin and softens fine lines. Aloe and nourishing oils hydrate and keep the delicate undereye area looking youthful.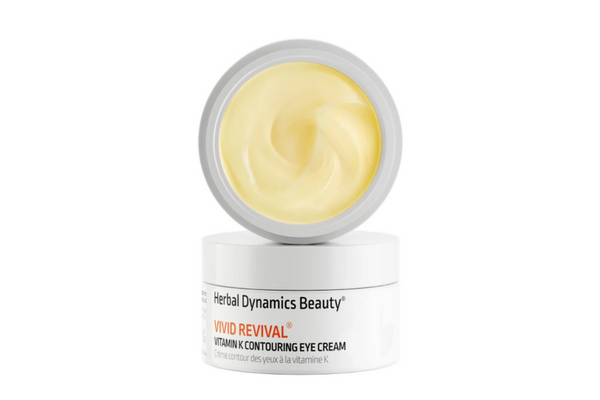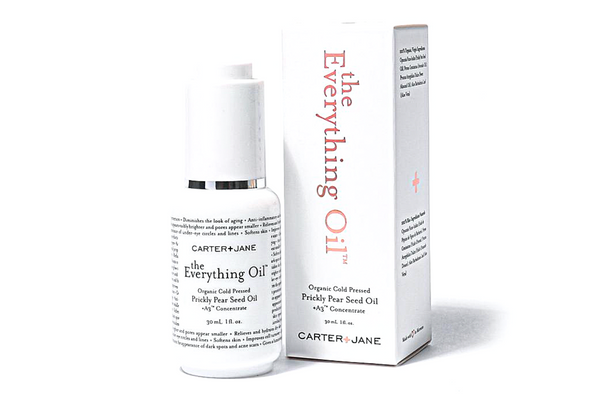 Carter + Jane The Everything Oil:  The Everything Oil™ is a revolutionary skincare product that replaces all other products in your skincare routine (use as your eye, face, lip, neck & décolletage serum and moisturizer, both day & night). *We highly recommend the use of sunscreen following a.m. application of the oil.
Made with 100% USDA certified organic, sustainably-sourced, high-purity, cold pressed prickly pear seed oil, and proprietary A3 Concentrate™, The Everything Oil™ benefits everyone…all ages, all genders, all skin types. 
Prickly pear seed oil is high in both Vitamin K and Vitamin E (with 150% more Vitamin E than Argan oil).
Here's what our customers say

★ ★ ★ ★ ★
2 weeks in — my dark circles are definitely lighter!
"This is my first time using any type of eye cream. I'm 29, and have developed really dark circles over the years. I've always had trouble sleeping. (I'll also add that I haven't changed my sleeping pattern since using the cream so I owe all these results to the cream for sure!)
My dark circles are getting lighter, and the fine lines around my under eyes are minimizing too!
Very happy with this product. It's a must for my routine now!"
- Jasmine P.
★ ★ ★ ★ ★
My Holy Grail
"I am never someone who thought eye creams were worth the money as I just brought my moisturizer up around my eyes, but this product is amazing. I have struggled with dark circles all my life even if I slept well and took care of myself. After a month of using this cream my dark circles are so faint that I'm pretty sure I'm the only one who notices them. This works better than any high end product I've tried and while it's not cheap, it is so affordable and worth the price for what it does for me. I didn't see a huge difference right away, just more moisturized under eyes but like all skincare, it takes time to show results. I have been using it day and night for over a month and I still have 90% of the jar left, so a little really goes a long way."
- Emmy T.
★ ★ ★ ★ ★
It really is the Everything (Miracle) Oil
"I bought this 2 years ago as an "add-in" to my already full on skin care junkie regime, because, why not? We fell in love on day one and haven't been apart since. Admittedly, it took me a minute to trust that I didn't need the other 87 products (only slightly exaggerating) that I rotated in and out of my 5-6 step routine. Carter + Jane are the only oils that I now use and my skin is fantastic. I save a ton of time, energy and cash and the gentleman who used to sell me LaMer (for a decade) has a bewildered look on his face when a) he compliments my glow and b) I tell him I only use one fabulous product. Being the recovering skin care junkie that I am, I always have a backup bottle…even though it seems to last forever!"

- Amber
If you want to repair and prevent dark circles and restore your skin to good health, then you may want to consider these healthy products. As always, if you'd like to try a sample, just email me (and make sure to include your address!)
To your beautiful skin,
Susie:)
IT'S ABOUT CLEAN.  IT'S ABOUT HEALTHY.  IT'S ABOUT SKIN.
Susie Kuse is Passionate About Great Skin and Co-Founder of Indie Beauty Market. She has been in the spa and beauty industry since 2002. She loves to help people understand that a little daily self-care goes a long way toward great skin, health, beauty and happiness. And it's important to keep your products safe, effective, healthy, clean, sustainable and ethical.