Why Niacinimide is the IT Skincare Ingredient


Our Popular Niacinimide Serums Are Helping You Treat Almost Everything
Hello Beauty,
Niacinimide is a popular ingredient that's been making waves lately. And for good reason - it can help solve so many skin issues!
It's a form of Vitamin B3. It's found in a lot of foods like meat, fish, milk, green vegetables, mushrooms, brown rice, nuts, avocados and beans.
But the magic of niacinimide is what happens when you use it topically. It works with the natural substances in your skin to improve, well, a lot.
It works in 3 ways. 
It increases your cellular turnover for more radiant skin. 

It's a potent antioxidant that protects your skin against free radical damage from the sun and pollution. 

And it helps to boost collagen production to help firm and smooth your skin.
So what does all that mean for you?
Well, it works to reduce inflammation. And that means it can help calm skin redness from conditions like eczema, acne, rosacea and other inflammatory conditions.
It helps to control sebum (oil) production, so it will help to minimize acne breakouts. Acne occurs when your pores get clogged from a combination of dead skin cells and other debris, like leftover makeup, mixing with the oil in your skin. The bacteria gets trapped in the pores, and boy do they love that warm, moist environment. They multiply like crazy and bam! You have a blemish.
So by controlling the amount of oil your skin produces, you are less likely to get an acne breakout.
It helps to minimize hyperpigmentation by blocking the amount of pigment that gets to your skin's surface. So you'll see an even tone to your skin. It even helps melasma - the most difficult type of hyperpigmentation, in my opinion.
It's almost like a crossing guard for your skin's surface.
Since it boosts collagen production and moisture production, it helps to reduce the appearance of your pores. So you'll get that nice, smooth porcelain look to your skin.
It strengthens your skin barrier. That helps to soften fine lines and wrinkles, and reduce dullness.
And niacinimide boosts the hydrating ability of the moisturizer you wear. So your skin is better at resisting moisture loss. It won't feel so dry, tight or flaky.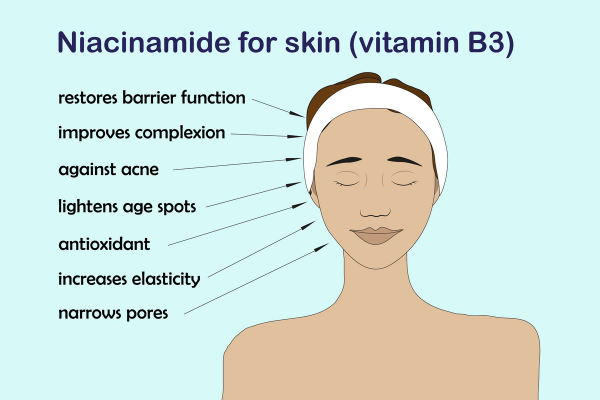 So that's a lot! Makes you want to use it all the time, doesn't it? But, a word of caution. Like retinol, niacinimide can cause an initial irritation. You could have a little flaking and redness at first. 
This isn't a bad thing in this case! It means your skin is on its way to being healthy and radiant. But if you're experiencing this, we recommend you start slowly, only 2 or 3 times a week. Then add a day per week until you're up to a daily dose.
We have 2 powerhouse products that contain niacinimide at Indie Beauty Market.
Mikel Kristi Vital A Rejuvenating Serum: Niacinamide paired with a potent Retinal Vitamin A complex is our Fountain of Youth product. 
Everyone needs this product for dramatic anti-aging and healthy skin. It fulfills one of our 4 pillars of skincare - restore your collagen layer.
But it does even more than that. We love it because it transforms the look and feel of your skin.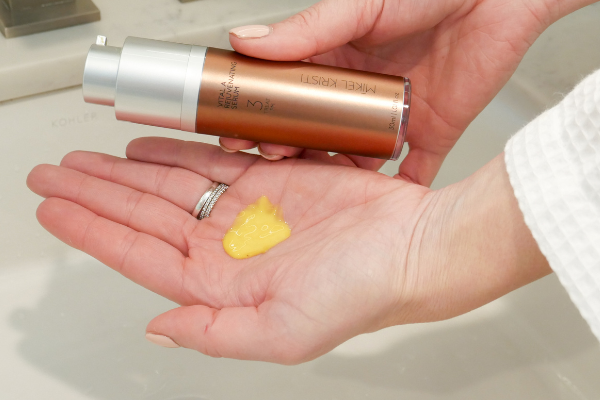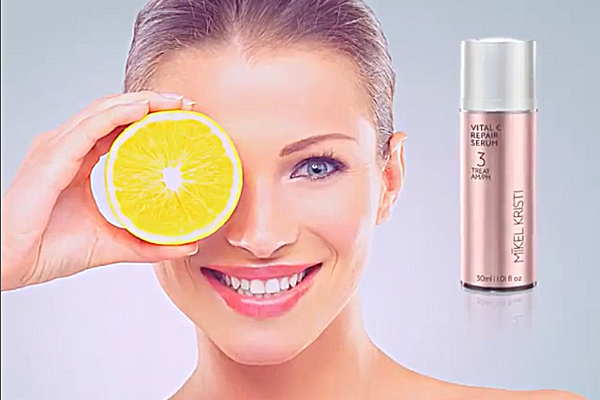 Mikel Kristi Vital C Serum:  Niacinamide paired with a super stable and potent Vitamin C complex will help boost your natural collagen production and moisture production. And it helps to even out skin tone. It also helps to restore your collagen layer. And it brightens, firms, smooths and helps repair signs of sun damage.
These are great to use together - Vital C during the day, and Vital A at night.
Here's what our customers say:
★ ★ ★ ★ ★
 ALREADY WORKING
"It's only been a few days with this product and I'm already seeing a difference in skin texture and tone. Great product!" 
- Susan (Vital C)
★ ★ ★ ★ ★
STOP USING RETIN-A AND BUY THIS NOW!
"This is the first A serum I've ever used that doesn't completely dry me out and make me flake to a point where I can't even get makeup on! I can tell this product is working but I'm not getting over dried! Love it times a million!"
- Sara (Vital A)
As always, if you'd like to try a sample, just email me (and make sure to include your address!) Both these serums come in 2 sizes, and Vital A is also available in the 7 Day Challenge Kit.
To your beautiful skin,
Susie:)
IT'S ABOUT CLEAN.  IT'S ABOUT HEALTHY.  IT'S ABOUT SKIN.
Susie Kuse is Passionate About Great Skin and Co-Founder of Indie Beauty Market. She has been in the spa and beauty industry since 2002. She loves to help people understand that a little daily self-care goes a long way toward great skin, health, beauty and happiness. And it's important to keep your products safe, effective, healthy, clean, sustainable and ethical.