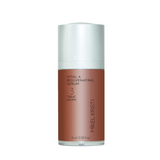 MIKEL KRISTI SKINCARE
VITAL A REJUVENATING SERUM
★ ★ ★ ★ ★
AMAZING FOR MY DRY SKIN!
"Over the course of the last 6 weeks, I have been using this product daily and I've noticed a different with moisture retention and brightness. Highly recommend! - Aiesha B
This night time serum is the perfect way to lessen the effects of the aging process.
With a patented vitamin A Retinaldehyde complex that converts into retinoic acid, this synergistic blend of Vitamin A, Niacinamide, and an antioxidant charged skin lightening compound, will transform the look and feel of aging skin while enhancing the skin's natural renewal process.
15 ml /  0.5 oz OR 30 ml / 1 oz.