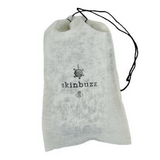 Skinbuzz
BAMBOO & CHARCOAL FACE CLOTH
This luxuriously soft face cloth is a must for your facial routine.  
This is the same cloth that is included in the Skinbuzz Facial Kit.  It helps to gently exfoliate your skin without stripping it. 
Regular, gentle exfoliation is Step 2 in keeping your skin healthy and strong. You'll love it!