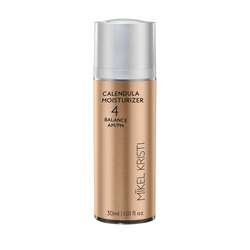 MIKEL KRISTI SKINCARE
CALENDULA MOISTURIZER
Calming

I've been using this moisturizer for years and love how it calms any redness or irritation. It has stood the test of time helping with all my skin changes; calmed acne/inflammation in my 20's and restored tone and irritation when I didn't sleep, or had hormonal changes with my new baby. I love this subtle fragrance and smooth texture as well. It absorbs well and works beautifully as a base on the days I wear makeup. - Erin
This rich moisturizing cream minimizes the effects of dryness from climate or lifestyle for the face, neck, and décolleté. This is our go-to for sensitive skin. 
It is perfect for deeply-penetrating skin hydration and super anti-oxidant defense. This active-packed moisturizer brings herbal extracts into a new generation.
Calendula, a proven anti-inflammatory and a beta-carotene gold mine, provides soothing weather protection, prevents redness and chafing.

51 ml / 1.72 oz.  or 30 ml / 1.0 oz