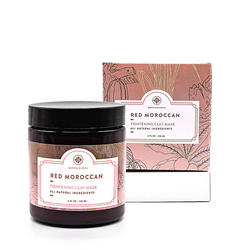 dermaglove
RED MOROCCAN CLAY MASK
This Red Moroccan Clay face mask was created as a super-charged exfoliating mask.
Its unique formula provides a rejuvenating facial experience using potent pure clays, kaolin, aloe, cocoa butter, baobab, and rosemary to exfoliate dead skin.
Within just 10 minutes, the Red Moroccan Clay begins to refine and define your skin, smoothing surface imperfections, and addressing rough skin and deep-clogged pores.
It also leaves your skin healthy with a polished, pore-minimized, smooth complexion.