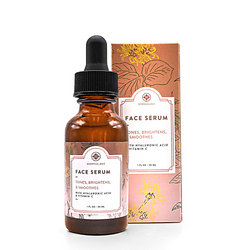 This lightweight, creamy serum tones, brightens and smooths with hyaluronic acid and vitamin C.
Face Serum is a lightweight creamy serum that offers direct skin regeneration and restructuring. 
In just 3 to 5 days, your skin's texture begins to look more balanced and toned.
FACE SERUM fights the visible effects of aging like wrinkles by actively creating a skin restructuring process. As a result, your skin will strengthen, becoming more elastic and better prepared to face the effects of environmental aggressions.
Infused with new energy, your skin looks luminous, youthful, and bursting with vitality.
1 oz