Beau Brummell
MARBLE SHAVING BOWL
Elevate your shaving experience with the Marble Shaving Bowl. Featuring thick stone walls that will heat up when placed in hot water and transfer heat to your shave lather. A textured interior agitates shaving cream to create the richest lather possible.
WHAT IT DOES
Creates an unbeatable shaving cream lather using grooves bored out into the surface of the shave bowl
Producing a rich lather has never been easier
Made of luxurious marble, this shaving bowl has a unique and elevated look and feel
Marble absorbs heat much faster than other materials. Run this bowl under hot water and you'll be creating a hot lather right in the comfort of your own home
Fun to use!
A perfect addition whether you're new to wet shaving, or if you're looking to whip up a better lather.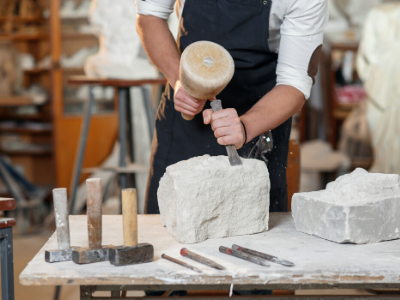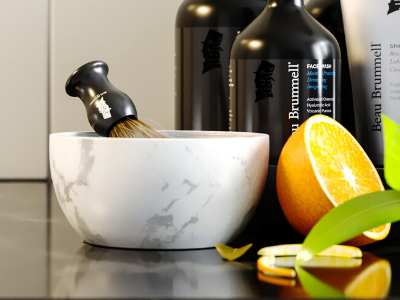 KEY INGREDIENTS

Crafted of white or black marble, this shave bowl is as much about look as it is about utility.
Expertly machined with precision, horizontal grooves carved out on the surface of the bowl were left exposed, providing an industrial effect that will really stand out on your vanity.
Those grooves will act as an agitator when the bristles of your shaving brush spread your shaving cream throughout.
The result is a richer lather in less time.
Shaving is a ritual for most guys, and whether you shave daily, or just a couple of times per month, you just can't top the feeling of a close, comfortable shave.
HOW TO USE:
Always rinse out your shaving bowl prior to first use.
Submerge the Marble Shaving Bowl in hot water for 1-2 minutes to allow the marble to absorb as much heat as possible.
Pour out hot water and squeeze a quarter size amount of Shaving Cream into the bowl.
Moisten Shaving Brush with warm water, shake off the excess and create a lather using circular motions directly in the bowl.
Add warm water as needed to reach desired lather.
FULL INGREDIENT LIST:
Marble
Your Daily Edge™
FACE THE DAY'S CHALLENGES WITH AN EDGE.
Step out each day feeling clean, confident, and ready to win.
The Beau Brummell Signature Scent
The Beau Brummell signature scent is a masculine fragrance consisting of a fresh, green opening, leading into robust earthy notes that trail gently away, leaving behind just a subtle, clean and confident scent on the skin.
Beau Brummell for Men simplifies grooming by combining benefits in every product. This is the elegance of efficiency.
Pure Edge™ is their commitment to only use natural, healthful ingredients.*
*Ingredients deemed to be of low hazard rating by Environmental Working Group's Skin Deep® Project.
With less effort, you feel and look ready to win every day.

We know you will love it!
What are people saying about THE MARBLE SHAVING BOWL?
★ ★ ★ ★ ★
It is so nice to find a product that looks good, feels well made and does a great job!
Moved and lost (misplaced?) my shaving mug and finally got around to searching for a new one. I am pretty picky about this type of stuff, so I wanted something that wasn't cheap looking, had a classy feel to it, and worked well. This shaving soap bowl achieves all of that.

It is remarkably heavy in the hand (which is a good thing) and looks great sitting by my sink. But nice appearance only counts if it works, and this bowl is exceptional. The inside is textured just perfectly to build a great lather when rotating the brush over it. The heavy marble like material hold the heat wonderfully. The result is a huge amount of hot foam both on the brush and in the bowl.

You poor people that spend money on shaving cream in cans/tubes just do not know what you are missing. Get this bowl, get some nice shaving soap, run some warm water into this thing and work up a great hot lather. It is life changing.
John R.
★ ★ ★ ★ ★
mmm, warmmm...
First of all, the packaging is well done, well protected for shipping. I got this for my son, who knew there must be more to life than shaving cream from a can, but he didn't know what. I selected a shaving soap and then I started researching bowls.
This was everything the description promised it would be. It is in itself a handsome piece, but the real beauty of it lies in its ability to hold heat on a chilly winter morning. If you do as the instructions say, fill it with hot water while you are showering so the stone can heat up, you will be rewarded with the most luxurious shave you have ever had. My son is very satisfied, he has found what he didn't know he was looking for.
maxalbec