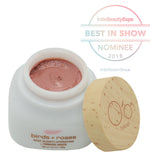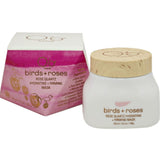 O'o Hawaii
BIRDS + ROSES ROSE QUARTZ HYDRATING + FIRMING MASK
⭐⭐⭐⭐⭐
Maintain classic beauty with this crystal-infused anti-aging mask.
Its abundance of exclusive and exotic ingredients detoxify the skin, fight and reverse UV damage, tighten and firm, and lock in hydration.
With over 600 roses per jar, Birds + Roses helps to minimize pores, calm inflammation, reduce acne and provide youthful, healthier-looking skin. Rose quartz crystals also help to immediately plump the skin!
It's luxurious and petal-soft, with clinical levels of natural actives. Sodium hyaluronate and squalane plump the skin and stimulate new cell growth. An ancient Asian beauty secret called Tremella Fuciformis or "snow mushrooms" draw moisture to the skin, penetrating deeply due to its small molecule size.

Also formulated into this "turn back the clock" mask are major antioxidant players like giant kelp, baobab, babassu, and tamanu oils along with sea buckthorn, pure rose and jasmine extracts, golden bee nectar, and of course healing and circulation-promoting rose quartz crystals.

This beautiful mask brightens your day and leaves you with a velvety, smooth complexion.
Formulated for All Skin Types; Aroma: Red Rose & Pink Geranium
5.2 oz