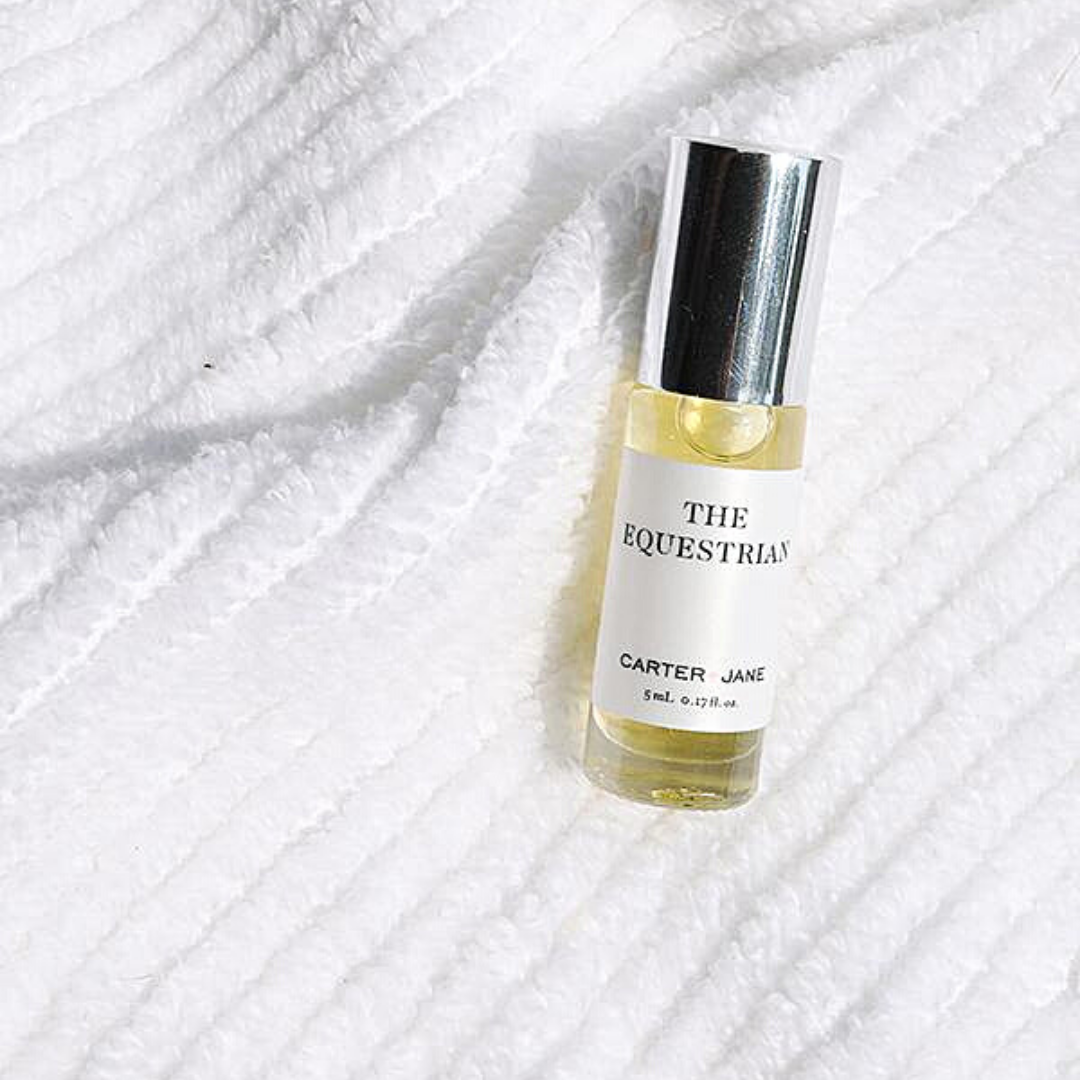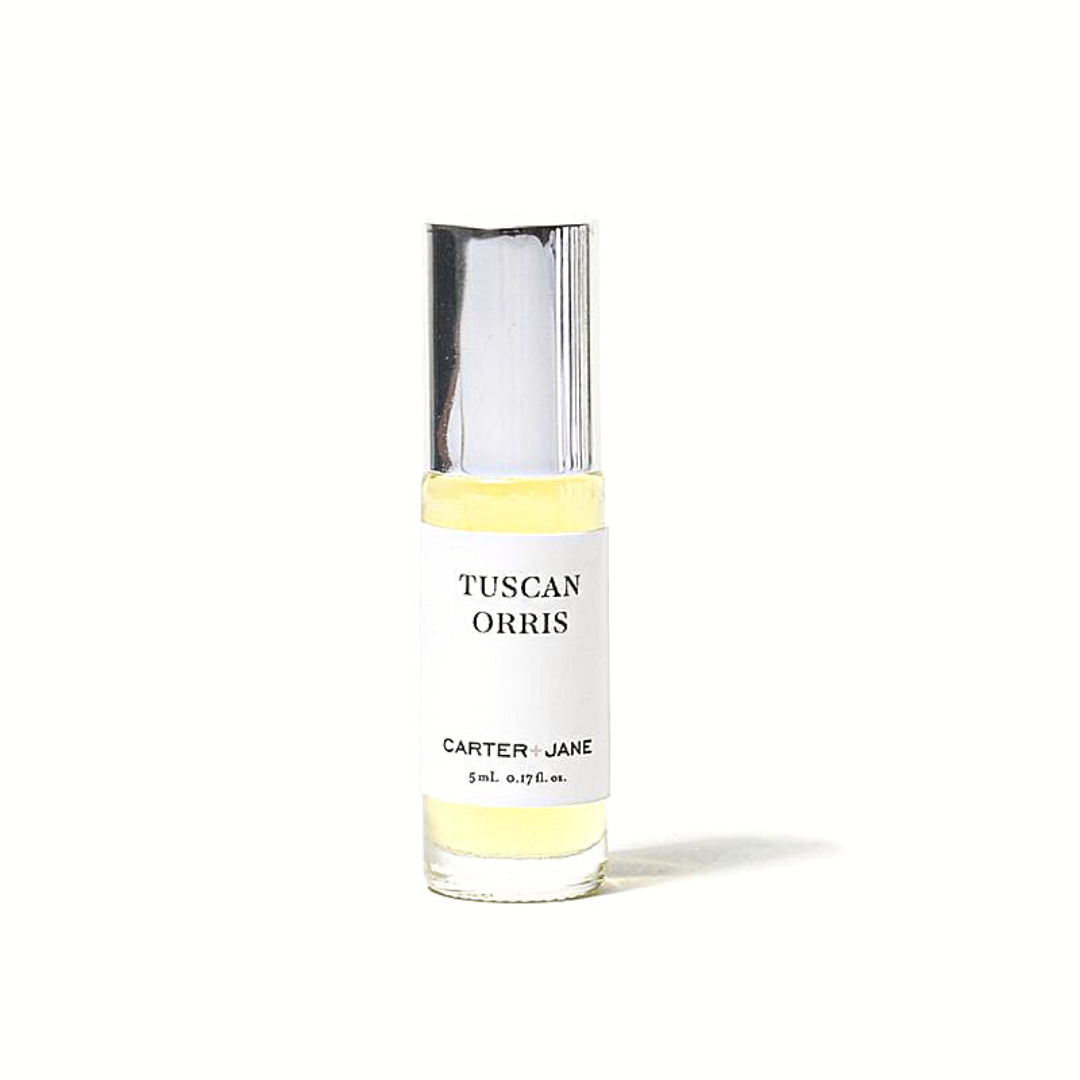 ORGANIC AROMA FALL COLLECTION
Sale price

$100.00
Regular price

$112.00
(/)
---
Introducing the Fall 2021 Collection: Coffee House + The Equestrian + The Penthouse + Tuscan Orris. 
"This collection is really special. We created aromas from a combination of very personal experiences and extensive customer feedback. These aromas embrace autumn in every way. As the trees change color and the air changes temperature, we remember and honor our Earth through these aromas and all she gives in the harvest months. For us, fall is the season of connecting with Mother Nature, grounding ourselves and stopping to truly appreciate the beauty that surrounds us. And by doing so we prepare for all the new beginnings that come with this glorious season." ~ Susan Carter + Sara Jane, co-founders, Carter + Jane
These organic aromas are packaged in a 5 mL glass rollerball bottle. 
All aromas are handcrafted in the USA and are made of organic essential oils blended with organic grape seed oil.
Get the entire collection, or choose your favorite!
5 ml / 0.17 oz
ORGANIC AROMA FALL COLLECTION
Sale price

$100.00
Regular price

$112.00
Choose options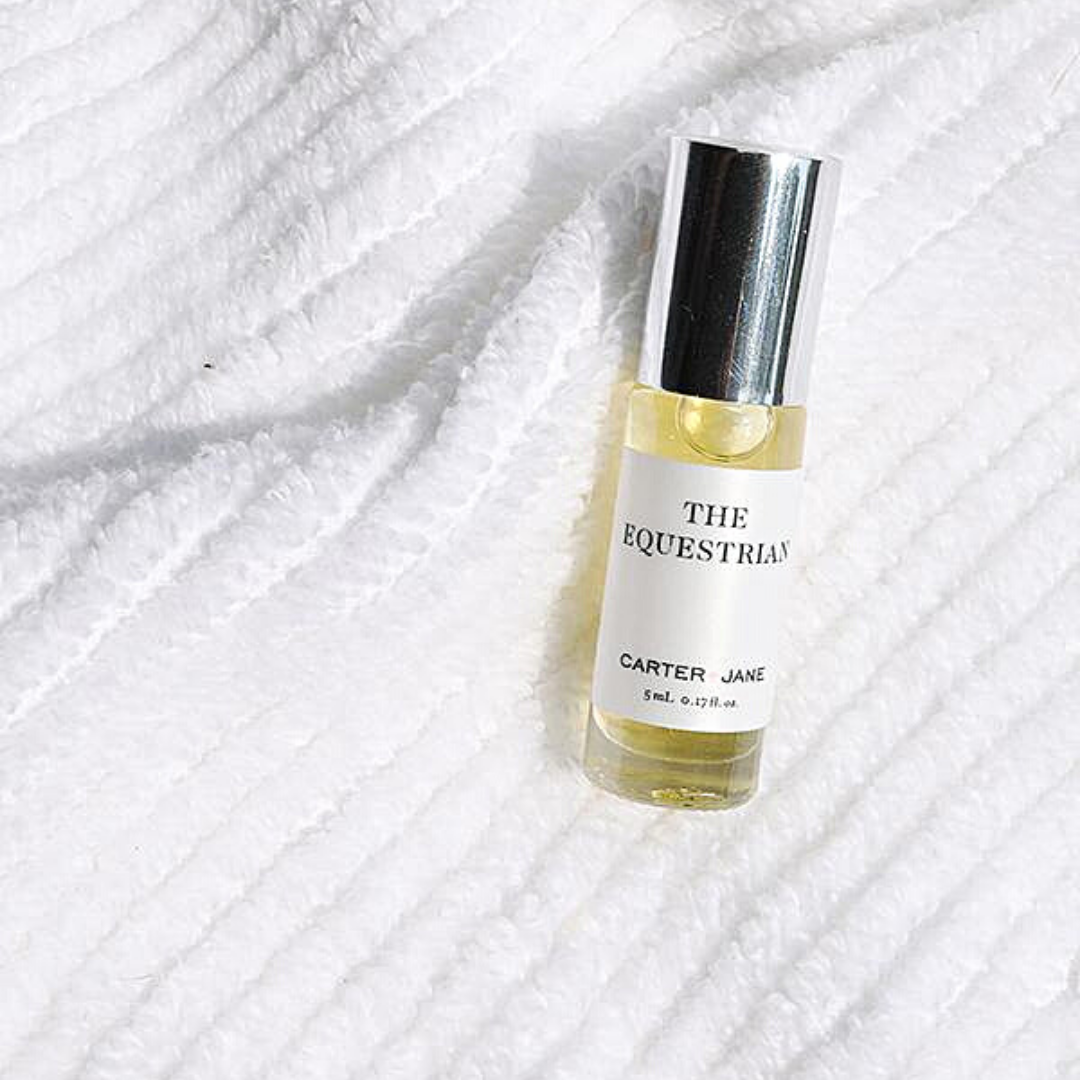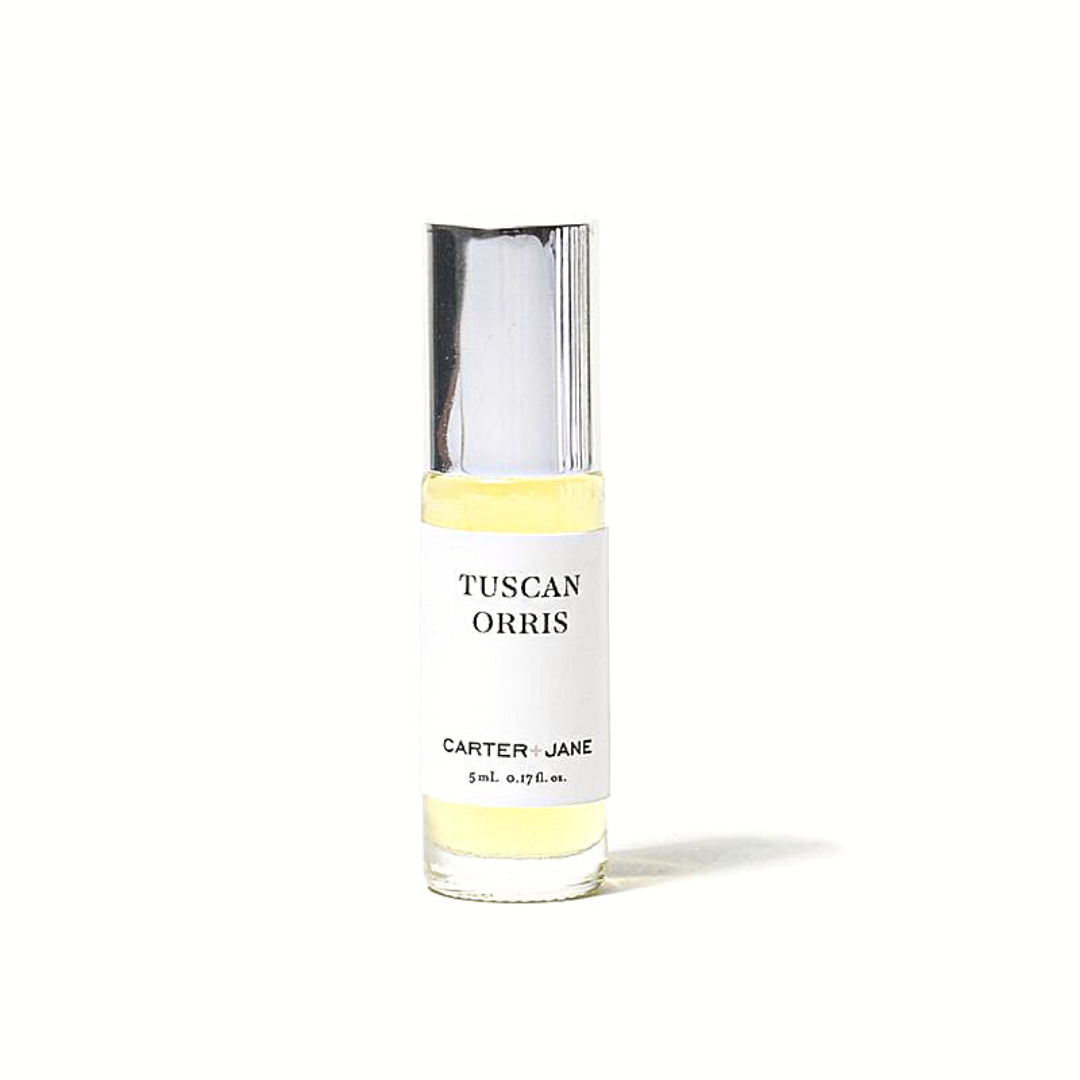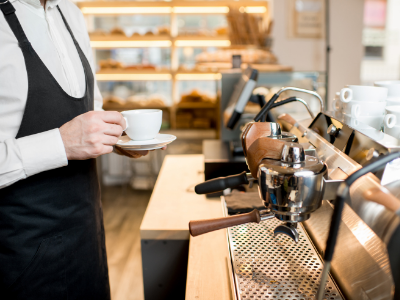 COFFEE HOUSE
"The coffeehouse culture in the '90s was as much about a thirst for community as it was for coffee. People coming in were buying more than a cup of coffee and scone…they came for a pleasant place to watch others, to read the newspaper or their latest book, to connect with friends and to feel like they were part of the life around them. And of course, to experience the wonderful gourmet aroma…a mix of coffee, vanilla, leather from the well-worn chairs and musk from the books…simply magnificent..."
From the formulator...the story behind the story:
"I loved the 90s...from the rise of flannel and the coffee house to the fall of blue eye shadow and permed hair...it was quite a decade. Carter + Jane's Coffee House instantly transports me back to 1995...flannel shirt, skinny brows, not so skinny lattes...and back to the coffee house of my youth. The key to making this formula work as a wearable aroma is the use of coffee blossom absolute vs straight coffee oil. Coffee Blossom bursts with a delectable bouquet of chocolate, vanilla, roasted coffee, and sweet florals. This rich and rare absolute is extracted from the wild Madagascar coffee shrub and is a warm, rich and inviting aroma."
Top notes: Coffee Blossom (sweet floral + coffee)
Middle notes: Cacao + Tonka Bean (chocolate + leather tobacco)
Base note: Vanilla + Cedarwood + Ambrette (brown sugar + woodsy musk)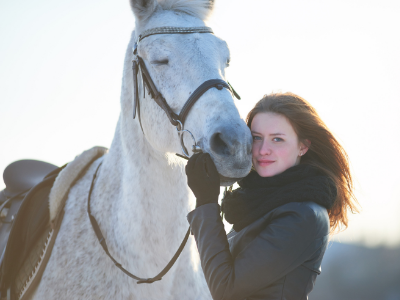 THE EQUESTRIAN
"The Equestrian is a refined composition of a true horse lover's experience. Hay Absolute captures the smell of sweet hay warmed by sunlight on a crisp autumn day at the barn. Nagarmotha mixed with cedarwood creates the perfect leather accord reminiscent of freshly oiled saddles and bridles. Oakmoss, cassie and jasmine capture the green pastures, sprinkled with wildflowers. And ambrette, expertly woven with vanilla, captures the musky warmth every equestrian understands..."
From the formulator...the story behind the story:
"The Equestrian was created after receiving a plethora of customer requests to create something for our equestrian girls out there. And having personally spent a summer working in a barn, falling in love with the horses...crushing on the ranch hands...and literally enjoying every second of the ride...I can still close my eyes and practically smell that joyful summer. After finding the perfect warm sweet hay absolute to ground the base of the aroma and a natural way to achieve a realistic leather accord...I knew I could recreate that indescribable aroma, in a sophisticated and very wearable way."
Top notes: Cassie + Jasmine (green floral + honey)
Middle notes: Hay + Nagarmotha + Cedarwood (hay + leather)
Base notes: Vanilla + Oakmoss + Ambrette (vanilla + musk)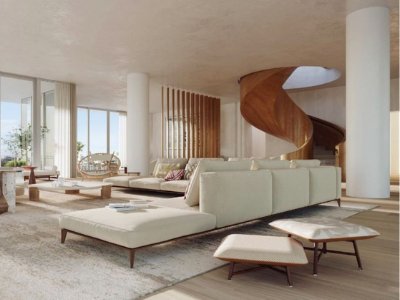 THE PENTHOUSE
"Revel in the peaceful quiet and stunning panoramic view, amidst the chaos of the city. The luxurious aroma is especially enticing...the citrus zest of Japanese yuzu mixed with just a touch of pink peppercorn spice, sensual musky notes labdanum and amyris all woven with the warmth of Tahitian vanilla....effervescent, sensual, exquisite...the penthouse."
From the formulator...the story behind the story:
"I vividly remember my first experience visiting an upper east side penthouse in NYC. I was a young dance student visiting the city for classes, and through a friend received an invitation to a ballet patron's event in her home. When I first met her, I remember thinking that she looked and even smelled, for lack of a better word, expensive......but not in an expected perfect "socialite" kind of way...she had more like a vintage Chanel and thrift store denim chic vibe. Walking into her penthouse was a mind-blowing experience - from the crazy chaotic streets of New York to a peaceful, stunning oasis of gorgeousness. And what I remember more than anything was the aroma...I couldn't place my finger on it so I asked her what it was and where I could buy it (my small-town naïveté was out in full force). She smiled and said she worked with one of the "noses" from a major design house to customize her perfect aroma that was infused throughout her home (who knew that was even a thing lol). But she "let me in on a little secret" that the keynote that was so different was the sweet citrus from the Japanese yuzu blended with the hint of pink peppercorn spice. Fast forward decades later. I never was able to find another perfume or aroma quite like it...so I decided to recreate it...and it's truly just as exquisite now as I remember it then."
Top notes: Yuzu (bright citrus floral)
Middle notes: Pink Peppercorn + Vanilla (sweet spice)
Base notes: Amyris + Labdanum (sweet resin + woody musk)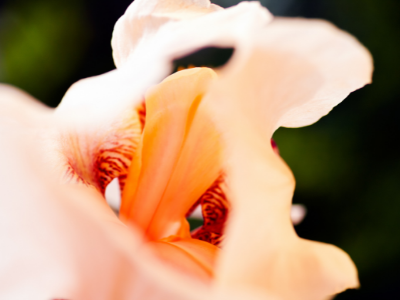 TUSCAN ORRIS
"A scent with few natural analogues, orris is exceedingly rare, It's been a sought out ingredient in fine perfumery for centuries, speaking to its enduring appeal. This powdery sensuous aroma weaves a blend of ethereal Tuscan orris, rose otto and jasmine, with the citrus notes of yuzu and grapefruit, earthy notes of cedarwood and patchouli and the grounding warmth of labanum and vanilla, perfect for the unassuming yet confident wearer."
From the formulator...the story behind the story:
"Orris root is the rhizome of the Iris flower. In Tuscany, they are grown on sloping hills between rows of olive trees. Orris is a note that has been used in only the finest perfumes for centuries, as it's complexity and beauty is unlike any other...but it is both expensive to purchase and challenging to find...as it only comes from Tuscany. We've been asked by customers to incorporate a powdery, ethereal aroma, but given we never use synthetic fragrance, we knew the only way to achieve this was to source a reserve of Tuscan Orris, which we were able to do through our partner farms in Italy. To really experience the magical complexities of Tuscan orris, it needs to be perfectly balanced with harmonious top and middle notes...which we worked long and hard to achieve. Because of the complex nature of this aroma, it's a bit more challenging to describe...most certainly this is our most "ethereal" aroma to date...but one just needs to experience it for oneself."
Top notes: Grapefruit + Yuzu (bright crisp citrus)
Middle notes: Orris + Jasmine + Rose + Vanilla (powdery ethereal floral)
Base notes: Cedarwood + Patchouli + Benzoin + Labdanum (woodsy sweet resin)

HOW TO USE:
Apply to your pulse points any time you need a pick-me-up. In several formulas, you may see sediment at the bottom. This is normal as Carter + Jane only uses organic ingredients; shake as needed
All aromas are in a 5 mL glass rollerball bottle.
FULL INGREDIENT LIST:
The beautiful aromas come from a unique formulation of exquisite, organic essential oils and are comprised of:
Coffee House: *grape seed oil + *vitamin e + *coffee blossom absolute + *cacao absolute + *ambrette essential oil + *atlas cedarwood essential oil + tonka bean absolute
The Equestrian: *grape seed oil + *vitamin e + *hay absolute + *cassie absolute + *ambrette absolute + *vanilla extract + *nagarmotha essential oil + *jasmine grandiflorum absolute + *atlas cedarwood essential oil + oakmoss absolute
The Penthouse: *grape seed oil + *vitamin e + *Japanese yuzu essential oil + *pink peppercorn essential oil + labdanum absolute + *amyris essential oil + *vanilla extract
Tuscan Orris: *grape seed oil + *vitamin e + *Tuscan orris absolute + *grapefruit essential oil + labdanum absolute + *jasmine grandiflorum absolute + *Bulgarian rose otto essential oil + *patchouli essential oil + *cedarwood Atlas essential oil + *Japanese yuzu essential oil + *vanilla extract + *benzoin resin oil
*organic
The Benefits of THE EVERYTHING OIL™
TO YOUR SKIN ARE VAST, AND IN OUR OPINION, QUITE MAGICAL.
Made with organic, sustainably sourced, cold pressed prickly pear seed oil and proprietary A3 Concentrate, THE EVERYTHING OIL™ benefits everyone.
This rare oil is unrefined, gluten-free, and formulated without water, alcohol or silicone.
Carter + Jane brings you beautiful, efficacious, organic products that are good for people, the planet, and animals. Always.
We know you will love it!
What are people saying about ORGANIC AROMA?
★ ★ ★ ★ ★
Another amazing fragrance [The Equestrain]
"I am always nervous to order a scent without the benefit of smelling it first because I'm very scent sensitive. However, I was so pleased in the past with my Carter + Jane Neroli 18 that I decided to jump in and order Equestrian. It is everything I had hoped it would be! Warm, comforting, a subtle whiff of leather here and flowers there. Much like the mingled scents we encounter when spending time with our equine friends, I can't adequately describe it. I just know I want to enjoy more of it."
Kim Davis
★ ★ ★ ★
Lemon shortbread cookie [The Penthouse}
"Sweet, yummy, couldn't smell much more than the yuzu and vanilla"
Carlie Zucker
★ ★ ★ ★ ★
Feminine and Sophisticated [Tuscan Orris]
"This is my favorite of the new Fall scents. It's warm, powdery, but not in an "old lady" way. Dries down to an almost warm skin scent. I love it!"
Alison M
★ ★ ★ ★ ★
Smells great [The Equestrian]
"The smell is lovely, it will be my new fall scent! Warm yet fresh and smells like a freshly conditioned saddle. I only wish the smell would last longer, but I'll just carry the rollerball perfume with me"
Teresa Griffith