Mineral Air
RENEWAL SERUM REFILL
Specifically formulated to be used with ElixerMist Device. Used together, this touchless, simple-to-use, two-piece working wonder gives you rapid response hydration for the lightest sheer on the go.

The hygienic quick-slide ElixerMist Device delivers the luxurious Renewal Serum as vaporized micro-sized drops enabling faster, efficient absorption...and all without touching your face with your fingers.
100 ml
WHAT IT DOES
ElixerMist Device
Breakthrough micronizing technology
Simple to use for fast, clean application
Compact 10.5 cm (4-1/4" tall)
USB rechargeable
Portable and TSA permitted
Easy to maintain, clean and refill

Serum Formula
Ultrafine hydration in seconds
Micronized for ultra-absorption
Greaseless and suitable for all skin types
Enriched with EGF and hyaluronic acid
Clean ingredients
Vegan and cruelty-free
Use:
As makeup prep
As a daytime refresh over or under makeup
As a nighttime treatment
As a post-shave soother for gentlemen
As a rehydrator during jet travel
As an aid to facial treatment recovery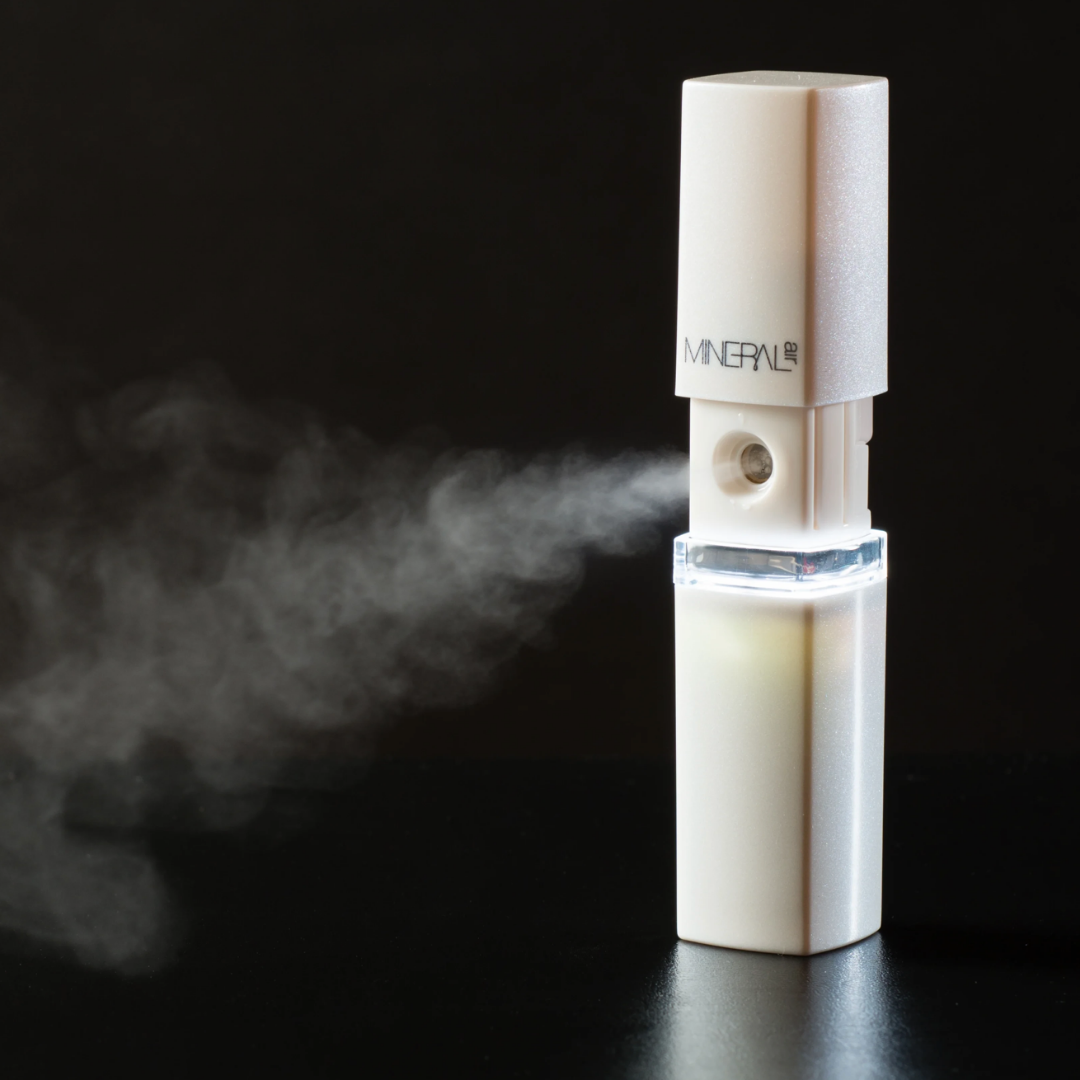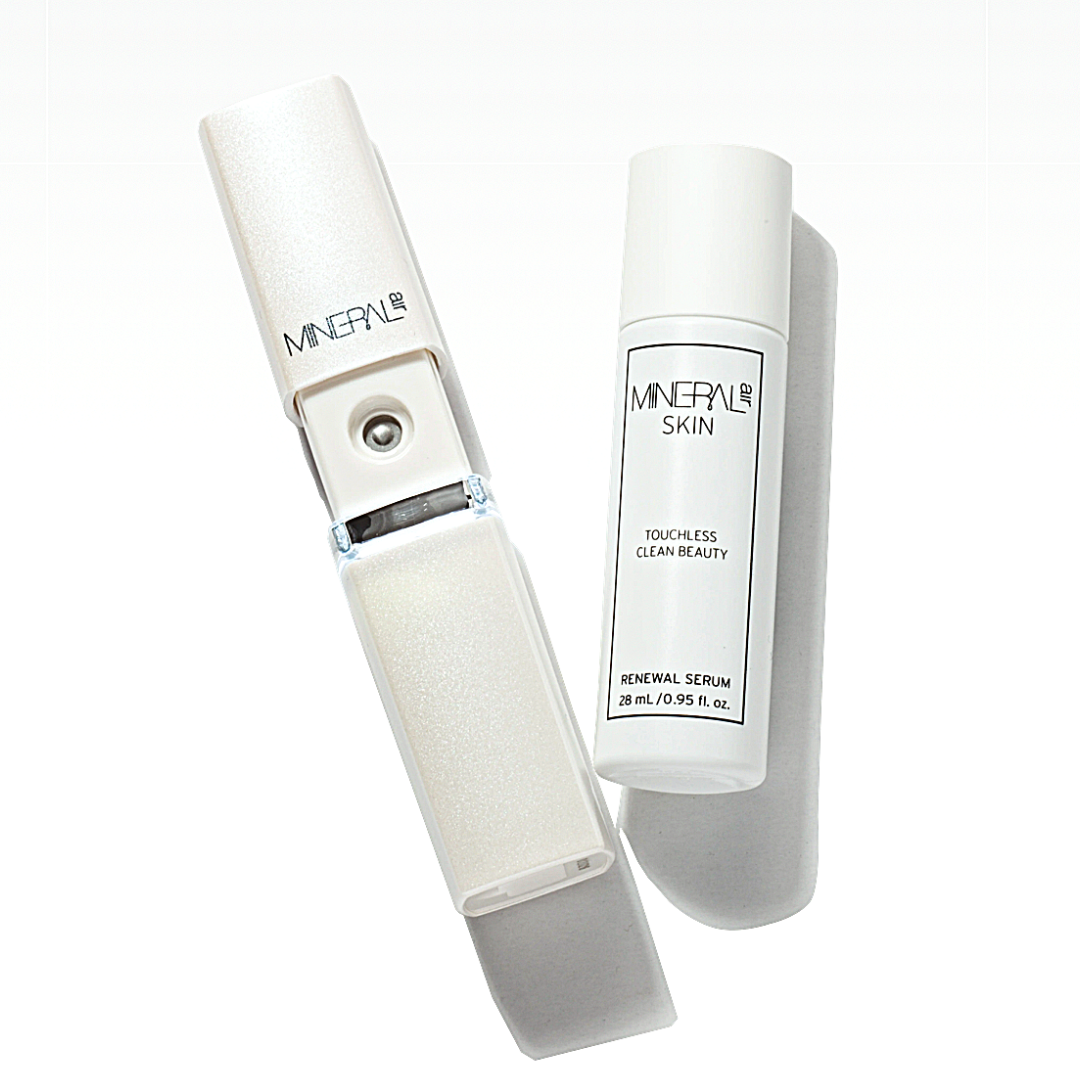 KEY INGREDIENTS

BRIGHTENING
Niacinamide (Vitamin B3): A potent skin-identical ingredient that helps diminish unwanted pigment and encourages healthy tone and texture.
Ascorbyl Glucoside (Vitamin C): A water-soluble, stabilized vitamin C derivative that provides enhanced brightening benefits.
RENEWING
Oligopeptide-1 (EGF): A plant-based peptide that jump starts skin's natural renewal process. Includes Edelweiss: A powerful antioxidant that helps combat fine lines and wrinkles. And Apple Stem Cell) A natural plant stem cell that supports natural tissue repair for firmer-looking skin
BALANCING
Sea Salt: A humectant mineral that helps balance oil production while maintaining moisture.
Laminaria Japonica Extract: A seaweed extract that nourishes and moisturizes
HYDRATING
Sodium Hyaluronate: Moisturizes the skin.
Hydrolyzed Hyaluronic Acid: Boosts moisture and plumps your skin.
Aloe Vera Leaf Extract: Provides intense moisture to your skin.
PURIFYING
Formulated without parabens, mineral oil, talc, PEG, BHT/BHA, alcohol, phthalates, gluten, synthetic dyes, synthetic fragrance, petroleum-based surfactants
CLEAN
Power-packed with carefully curated clean ingredients, this two-part skin hero application and formulation offers clean, healthy ingredients for maximum benefits.
FULL INGREDIENT LIST:
Water/Aqua, Pentylene Glycol, Glycerin, Hydrolyzed Hyaluronic Acid, Sodium Hyaluronate, Leontopodium Alpinum Callus Culture Extract, Malus Domestica Fruit Cell Culture Extract, Laminaria Japonica Extract, Aloe Barbadensis Leaf Extract, Oligopeptide-1, Niacinamide, Ascorbyl Glucoside, Sea Salt, Sodium Citrate, Butylene Glycol, Citric Acid, Xanthan Gum, Lecithin, Phenoxyethanol.

Suitable for all skin types, including dry skin
Vegan and Cruelty-free.

LIGHT AS AIR
COMPLEXION PERFECTION
Mineral Air makes it clean, fast and easy.

From the very beginning, the AirMist Device is simple to use and is perfectly adjusted to distribute the correct amount of four-in-one foundation or skin renewal serum with no guessing needed. The technology in the mist delivers a micronized formula in a size of 30 micrometers (µm) for even coverage that is buildable and breathable without clogging your pores.

CONTAINS ONLY THE FINEST MICRONIZED MINERALS AND
SKIN-NOURISHING NATURAL ORIGIN INGREDIENTS
VEGAN AND CRUELTY FREE
We know you will love it!
What are people saying about THE MINERAL AIR SKIN RENEWAL SERUM?
★ ★ ★ ★ ★
Beauty Products So Smart, We're Not Sure How We Lived Without Them
"Game-changing beauty."
NEW BEAUTY MAGAZINE, AUGUST 2020
★ ★ ★ ★ ★
Quick, easy!
"No fuss, no muss. Just how I like it!"
Tracy