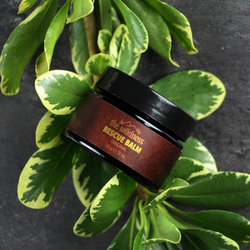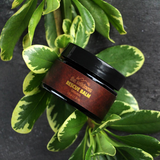 "The Rescue Balm has healed severe contact dermatitis that had been resistant to traditional medicine as well as alternative. Within 48 hours of receiving my order, my hands were noticeably improved. A week later, almost completely healed!"
— C and Cs G
Balm, salve, ointment, unguent, raw lotion - whatever you call it, this multitasking hero is packed with 18 reparative botanicals to soothe damaged and inflamed skin and protect it while it heals.
Use on face or body...wherever you need a little TLC.
Beauty Balm: gently resurfaces, moisturizes and calms inflammation to promote radiant skin
Skin Therapy: repairs dry, chapped skin and dermatitis
Boo Boo Balm: promotes healing of minor skin irritations
Perfect for use on sensitive skin, rosacea, eczema, dermatitis, dry/cracked/chapped skin and hardworking hands. Works great for lip and cuticle care as well.
1 oz / 30 ml