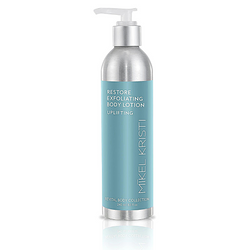 MIKEL KRISTI SKINCARE
RESTORE EXFOLIATING BODY LOTION
⭐⭐⭐⭐⭐ 
Love this Moisturizer!

Love this Moisturizer! It smells so good and it has helped the dry skin on my legs tremendously. Highly recommend. - Cassie
Restore Exfoliating Body Lotion is an intensely moisturizing lotion with just the right balance of gently exfoliating, deeply hydrating, and powerfully nourishing ingredients.
This lightweight day and night body lotion is formulated with mature skin in mind.
Crafted with Alpha Hydroxy Acids (AHA's) that occur naturally in sugar cane (citric acid), fruits (glycolic acids), and milk (lactic acid), and work to exfoliate, brighten, and soothe to reveal younger looking skin.
Antioxidant rich Organic Cranberry, Bilberry, and Lemon Extracts restore vibrance and softness, while smoothing aging, dry, and dull skin.
Skin looks toned and hydrated with Organic Seaweed Extract. Apricot Kernel Oil extract provides an excellent source of bioactive antioxidants to keep the skin supple, hydrated, and protected. 
Scents:
Uplifting:  The uplifting aromas of Rose, Frankincense, and Myrrh will elevate your mood and energize your mind as you are enveloped by the spa-like experience of this luxurious body lotion.
Calm:  The soft aromas of Sandalwood, Clary Sage, Lavender, and Jasmine intermingle to quiet the mind and calm the senses as you enjoy the spa-like experience of this luxurious lotion.
Sensual: The sensual aromas of Vanilla, Rose, and hints of Pink Peppercorn work together to provide the perfect physical and mental escape at the end of any long day.
240 ml / 8.11 oz.