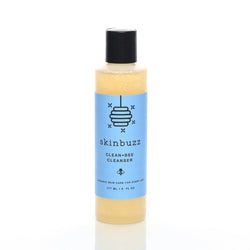 Skinbuzz
CLEAN•BEE ORGANIC CLEANSER
★ ★ ★ ★ ★
Great for Tweens!

"Simple routine to learn and as a bonus, the breakouts disappeared almost immediately and this positively reinforced the facial cleansing routine. She is back to her happy self and not worried about having to hide her face. Wish more people knew about this product!!" - Amy H.

Clean•Bee Organic Cleanser is naturally antiseptic and anti-inflammatory, helping to heal and soothe skin while preventing breakouts.
We love this cleanser because it leaves us feeling clean but still moisturized.
6 oz.