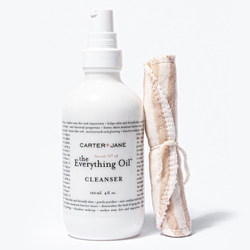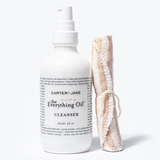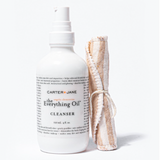 Carter + Jane
THE EVERYTHING OIL™ CLEANSER
⭐⭐⭐⭐⭐  My fav cleanser 
"I love this! Finally a cleanser that cleans my skin without making it feel tight and dry afterwards."  -Erica J. 
Based on the principle that 'like dissolves like', this organic, plant-based cleansing oil will dissolve excess oil, dirt, and make-up, while still nurturing the skin and balancing the production of your own natural oil.

The Everything Oil™ Cleanser uses The Everything Oil™ in the base formula, along with organic sesame seed oil, organic castor bean oil, and organic moringa seed oil, to provide a comprehensive cleansing and nourishing experience.
The delicious and decadent scents are as pleasing to your nose as they are to your skin. Neroli No. 18 features sweet orange + neroli + bergamot + ylang ylang + frankincense - to completely redefine the way you think about cleansing! 
Angelic Clementine features a blend of essential oil antioxidant powerhouses, grapefruit + sweet orange + clementine + bergamot + vanilla, which is as pleasing to your senses as it is to your skin!
4.0 oz.