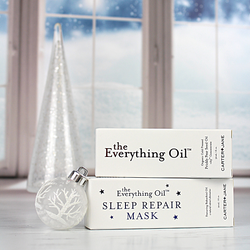 Carter + Jane
THE EVERYTHING OIL™ / SLEEP REPAIR MASK DUO
This Duo is all you need for a healthy, radiant complexion. 
The Everything Oil™ is a revolutionary skincare product that replaces all other products in your skincare routine (use as your eye, face, lip, neck & décolletage serum and moisturizer, both day & night). *We highly recommend the use of sunscreen following a.m. application of the oil.

Made with 100% USDA certified organic, sustainably-sourced, high-purity, cold pressed prickly pear seed oil, and proprietary A3 Concentrate™, The Everything Oil™ benefits everyone…all ages, all genders, all skin types. 
The Everything Oil™ Sleep Repair Mask is a revolutionary skincare product featuring 10% Bakuchiol, the natural alternative to Retinol. Bakuchiol has been shown in clinical studies to work as well as retinol at addressing signs of aging. But this vegan alternative has none of the irritation. It increases cell turnover, stimulates collagen production, and diminishes signs of aging like fine lines, wrinkles, skin laxity and overall sun damage. 
The Sleep Repair Mask takes the power of The Everything Oil™, blends it with pomegranate and Bulgarian lavender oil, and adds cold-pressed Bakuchiol at a 10% concentration to create the most powerful, natural and effective sleep repair product on the market! Even the most sensitive skin will experience a visible reduction in the appearance of fine lines and wrinkles, and a brightening of uneven tone. You will wake up with hydrated, even-toned, plump and glowing skin.
 1 oz  each product