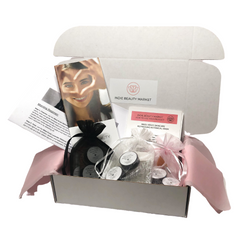 Indie Beauty Market
Your Personal Regimen Kit
Thanks for taking our Skin Quiz! Your Personal Regimen Kit will guide you to healthy beauty products that are good for your skin type, lifestyle, and budget.
Now just add this to your cart and check out, and we will build you a kit full of clean skincare and beauty products that will put you on your way to a radiant, healthy, youthful complexion, without killing yourself with toxic beauty products.
It includes generous sample sizes of 2 Customized Daily Regimens, one Weekly Exfoliation Regimen, and some body products customized for your skin and concerns. (Over $50 value.)
If you enjoy your Regimen and want to order any full-sized products, simply use the GIFT CERTIFICATE we include to get $10 OFF your first full-sized product order. 
Note: the images provided represent some of our brands. Your samples may vary.