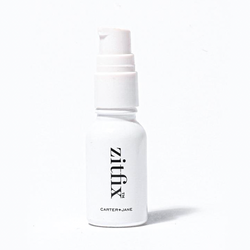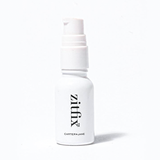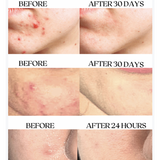 ★ ★ ★ ★ ★. ZitFix works!
"I purchased ZitFix for my son who has pockets of cystic acne that will not go away. Many treatments have been purchased and used but nothing worked. ZitFix is clearing his skin! He uses it every night and even commented on how good it smells. I highly recommend it!" - Margaret Falkenberry

THE ZITFIX™ STORY
Determined to find a natural, non-toxic solution to stubborn acne and occasional breakouts, Carter + Jane went on a mission to create a super effective, non-toxic formula...ultimately creating their unique, pinkish-purple Zitfix™ overnight acne treatment. 
Once they found the right combination of ingredients and finally experienced relief themselves from the hormonal face and neck acne that plagued them for years, they knew they created something very special! 
Zitfix™ is made with organic and naturally derived vegan ingredients; it will not cause dryness or irritation.
ZitFix™ will not disrupt the skin's natural microbiome...which is key to fighting acne.

*They use in-season and freshly cold-pressed organic oil. Because of this, aroma may vary slightly from bottle to bottle. 
ZitFix™ is packaged in a 15 mL/.5 oz glass pump bottle.