Beau Brummell
SHAVING BRUSH
Shave like your grandad used to with the black badger bristle shaving brush.
WHAT IT DOES
The rugged yet soft bristles create a generous lather for the smoothest shave possible.
This shaving brush will also exfoliate your face, removing dead skin cells that can clog up your razor.
With a shaving brush, your razor glides along your face taking the hairs with one pass leaving you feeling fresh and smooth so you can stay handsome, like a true gentleman.
Using the gentlemen's shaving brush for your wet shave routine is the best way to get the most out of your shaving experience.
Fun to use!
Using The Shaving Brush daily will improve facial skin appearance.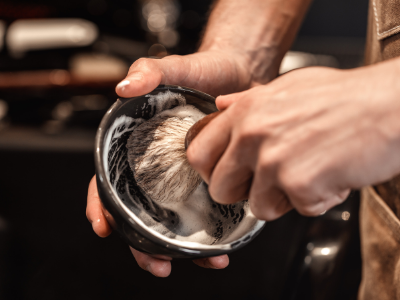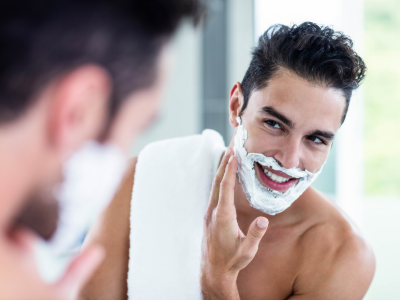 KEY INGREDIENTS

The Gentlemen's Shaving Brush is a 100% badger hair shaving brush. Badger's hair is a staple to the gentlemen's shaving brush.
Badger's hair has been used for more than two centuries to make the finest shaving brushes.
It helps get the most out of your shaving cream by bringing out the thickest lather possible.
The rugged bristles work to lift your hairs up, which aligns them for cutting, and forces shaving cream deep beneath the beard.
Used with The Shaving Cream, our badger-hair brush produces a rich shaving lather.
HOW TO USE:
Wet the brush and swirl into shaving soap. Apply to face.
Rinse brush with warm water after each use.
Dry with bristles pointing downward.

Your Daily Edge™
FACE THE DAY'S CHALLENGES WITH AN EDGE.
Step out each day feeling clean, confident, and ready to win.
The Beau Brummell Signature Scent
The Beau Brummell signature scent is a masculine fragrance consisting of a fresh, green opening, leading into robust earthy notes that trail gently away, leaving behind just a subtle, clean and confident scent on the skin.
Beau Brummell for Men simplifies grooming by combining benefits in every product. This is the elegance of efficiency.
Pure Edge™ is their commitment to only use natural, healthful ingredients.*
*Ingredients deemed to be of low hazard rating by Environmental Working Group's Skin Deep® Project.
With less effort, you feel and look ready to win every day.

We know you will love it!
What are people saying about the SHAVING BRUSH?
★ ★ ★ ★ ★
I found the brush extremely effective and easy to use, helping whip up a rich lather that would make the shaving process effortless. The Gentlemen's Shaving Brush provides exceptional value, offering more in comparison to its price point than many of its competitors. This shaving brush is exceptionally well built and should stand the test of time.
Rishi Chullani

★ ★ ★ ★ ★
Excellent..
This Beau Brummell shaving soap is one of the best I've tried. It lathers up phenomenally well wicking the beard hairs up prepping for a close shave. The soap does not irritate the skin, is moisturizing, has a wonderful masculine scent, and leaves no residue on the skin after rinsing. You don't need much either to achieve a great lather so a tube will last a long time. The value is very good cost wise for such a quality product. I'm impressed by this shaving product and I'm not easily impressed. Absolute 5 stars.
Bros