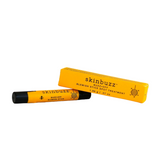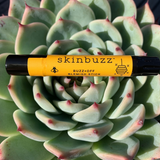 Skinbuzz
BUZZ•OFF BLEMISH STICK
⭐⭐⭐⭐⭐ ABSOLUTELY BRILLIANT!
"My massive, painful zit was gone within hours!" - Diane C.
No matter how hard we try, blemishes do happen. 
Bee prepared!
Our Buzz•Off Blemish Stick Spot Treatment enlists the power of bees to calm and heal breakouts FASTER. Small but mighty, this balm features beeswax, propolis, willow bark and malic acid. 
Together these ingredients work to unclog the pore, calm any redness (less pain!) and generally speed up the healing process of any blemish.
Basically, this balm heals and brightens your pimples faster without any harsh or drying ingredients.
Tip - Throw Buzz•Off Blemish Stick in your backpack or purse so you have it on hand to treat tougher breakouts throughout the day. 
1.98 g / .07 oz