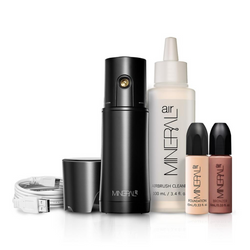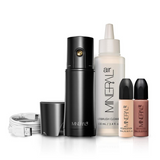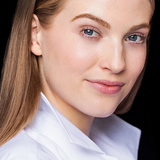 Mineral Air
COMPLEXION + BRONZER KIT
⭐⭐⭐⭐⭐  "I love the makeup it's the best I've ever used." - Christine A.

Everything you need to get a flawless, natural looking sun kissed skin in seconds.


Totally fast, fun, clean and easy, this complete 6-piece Mineral Air Complexion + Bronzer Kit delivers precision misting application of the long-lasting, light-as-air Four-in-One Foundation and the Sun-Kiss shade for an all-over warmth, contouring, blush, or pop of color on the eyes, this color will do it all and become your new favorite.

Leaves you with a dewy, satin finish that lasts up to 10 hours.
Complexion-loving ingredients from us mean better-looking skin for you.
KIT INCLUDES:
Mineral Air AirMist Device (with Reservoir Head)
One extra Reservoir Head
One 10ml/0.33 fl. oz. travel size bottle of Mineral Air Four-in-One Foundation in the shade of your choice
One Universal Bronzer in Sun Kiss 10ml/0.33 fl. oz.
One 30ml/1 fl. oz. travel size bottle Mineral Air Airbrush Cleaner
Mineral Air Micro-USB Charging Cord