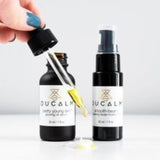 ⭐⭐⭐⭐⭐
Young Glow Duo
"Out of this world. Real results." - Dana P.
Youthful, glowing and seriously hydrated - Young Glow Duo is the perfect pair to combat those dreaded signs of aging, heal scarring and uneven skin, and finish you off with a sexy glow.
The secret to a good facial oil? Using oils rich in polyunsaturated essential fatty acids that penetrate and hydrate the deeper layers of the skin – not just the surface. Maracuja, Evening Primrose and Apricot Kernel oil meet Agave Stem Cells, Prickly Pear and powerful botanicals in this moisture power duo. 
Fast results
You will notice improvement upon one application and after several weeks you will experience softer and more supple skin with softened lines and a more youthful brightness. 
You'll get
Pretty Young Skin Oil Serum (30 ml/ 1 fl oz. )

Smooth Beam Facial Moisturizer (30 ml/ 1 fl oz. )