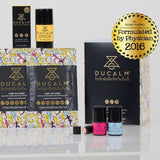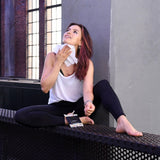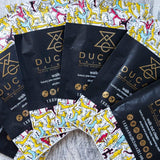 Ducalm
WALK OUT CLEAN SHOWER WIPES
⭐⭐⭐⭐⭐
"Went to hot yoga today and came home to discover my hot water heater was broken. DUCALM shower wipes to the rescue!" – PERI, Boulder, CO
⭐⭐⭐⭐⭐
Used the WALK OUT CLEAN shower wipe today after my workout when I had to head back to work and it was great. Loved it!" – EMILY, Indianapolis, IN
Ducalm Walk Out Clean Shower Wipes are made from natural and naturally sourced, nontoxic ingredients. They blend together synergistically to provide a one-step application. These wipes are super gentle and calming to the most sensitive and reactive skin.

These thick, luxury cleansing cloths are safe to wipe anywhere - head to toe. This is the thickest wipe on the market, designed to be a full shower! No Shower? No Problem, take me to the gym and beyond!
All products are vegan and cruelty free.
Box of 12 8 in x 9 in Body Wipes