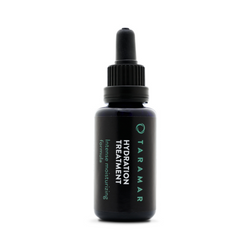 Taramar
HYDRATION TREATMENT
A unique blend of bioactive substances that your skin absorbs
from very fine organically certified oils and powerful antioxidants
Hydration Treatment is an organic oil blend that is specially developed for dry skin. This mixture is also good for normal skin and has unique properties to soothe the skin. 
Hydration Treatment is based on three extremely effective oils from the mangosteen fruit, poppy seeds, and coconuts. They combine with powerful antioxidants from organically grown white tea and Icelandic trinity violets. 
The Hydration Treatment works extremely well. It is absorbed quickly by your skin so it becomes pleasant to the touch without any feeling of oiliness. 
Hydration Treatment softens your skin and protects it from moisture loss. It helps to increase the health and function of your skin.
20 ml glass bottle