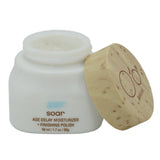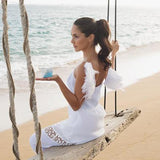 O'o Hawaii
SOAR AGE DELAY MOISTURIZER + FINISHING POLISH
⭐⭐⭐⭐⭐
"Love Love Love this product. My skin looks and feels amazing after using this moisturizer. I have very dry and sometimes oily sensitive skin. This moisturizer hands down is the best. I love all the natural ingredients." - tracydrand (verified owner)
Fly high by feeding your skin with micronutrients and sparkling crystals! With an immediate reduction in the appearance of fine lines, Soar locks in all the other key ingredients from the previous O'o Hawaii steps for a smooth, pre-makeup pallet.

Prepare to soar by finishing your O'o Hawaii anti-aging skincare ritual with this ultra-hydrating and smoothing moisturizer.

Packed with exotic fruit, plant and micro-algae extracts, Soar Age Delay Moisturizer + Finishing Polish features sodium hyaluronate, squalane, sparkling rose quartz crystals and O'o Hawaii's Exclusive blend of Hawaiian superfoods. Baobab, babassu and tamanu oils boost cellular energy.
Highly absorbable, Soar also includes fermented sea silt to boost our actives plus natural low-level sun protection.

50 ML / 1.7 oz