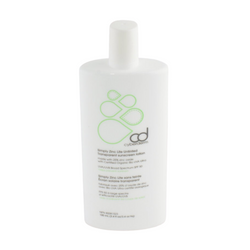 CyberDERM
SIMPLY ZINC LITE SPF 50
★ ★ ★ ★ ★
Godsend for my rosacea
"Zinc oxide is a natural anti inflammatory and works wonders for my rosacea. I wash my face as normal, moisturize, and then apply this before my makeup! - cooknash

Based on popular demand! You loved Cyberderm's tinted Simply Zinc Ultra SPF 50 but wanted an untinted version as well. May we introduce you to their newest inclusion in the CyberDERM Clean Clinical line - Simply Zinc Lite SPF 50.
They made this 25% zinc oxide, all mineral SPF super silky and feather light. This fluid format delivers the essential protection against UVA and UVB light and has one of the highest UVA Protection Factors of 20 of any mineral sunscreen.
This formula contains no added water and is the newest innovation in luxury oils in SPF. It contains Norwegian Spruce Extract for a powerful anti-oxidant to help prevent the signs of aging.
Created under the guidance of a dermatologist, this formula meets the most stringent clean beauty standards. It's vegan, cruelty-free, fragrance free and free from essential oils. There is no need to compromise when choosing a daily SPF option. Aesthetics, performance , effectiveness and safety - you CAN have it all.
This is a sunscreen that can and should be used by everyone including those with a history of skin cancer, photo-aging, hyperpigmentation (including melasma) and more. 
Size: 100 mL / 3.4 oz