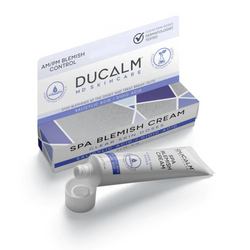 Ducalm
SPA BLEMISH CREAM CLEAR SKIN DOSES
This MD Approved pro-strength serum is designed to use daily to address breakouts throughout the day for maximum effect.
This unique formula can be used at the onset or before a breakout appears to help prevent them from surfacing.
Clear Skin Doses is a light, non-greasy and absorbent remedy for reducing the appearance of cystic breakouts, and most common blemishes. Use on spots or in areas with blemish clusters.
This formula is non-drying, which makes it different than other remedies in the blemish department. 
For normal, oily, dry, blemish-prone skin.
CRUELTY-FREE • CLEAN FORMULA • FREE OF PERFUME, PARABENS, SULFATES, SILICONES, AND PEGS
0.5 oz (3-month supply)