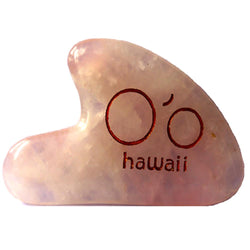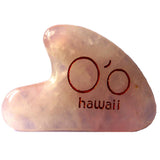 O'o Hawaii
ROSE QUARTZ GUA SHA BEAUTY TOOL
⭐⭐⭐⭐⭐
Rose quartz is the stone of unconditional love and romance. It is the most important stone for the heart chakra and the heart, opening you up to all kinds of beauty. Not only does it promote love of others but love of the self.
In skincare, it promotes glowing skin while helping to retain moisture. It helps improve skin elasticity, encourages lymphatic drainage and helps prevent wrinkles.
The ancient Chinese practice of facial gua sha moves lymphatic fluids and releases fascia so skin can function better. It breaks down adhesions and hardness in muscles, particularly in the jaw line. The overall effect is a significant boost of blood and qi to the skin and an increase in the circulatory flow of blood. Studies have shown an increase in circulation from the technique.
Regular Rose Quartz Gua Sha Beauty Tool use also improves natural hydration, producing glowing skin and aiding the skin's ability to purge toxins, dirt and general buildup in the pores.
Using O'o Hawaii's gua sha tool, over time, will plump the skin, making lines less visible and skin tone brighter.